Italian Bonds May Be Traders' Next Obsession After French Vote
by
Nation's election, risk of ECB taper put bonds under pressure

Citigroup sees spread over bunds reaching highest since 2013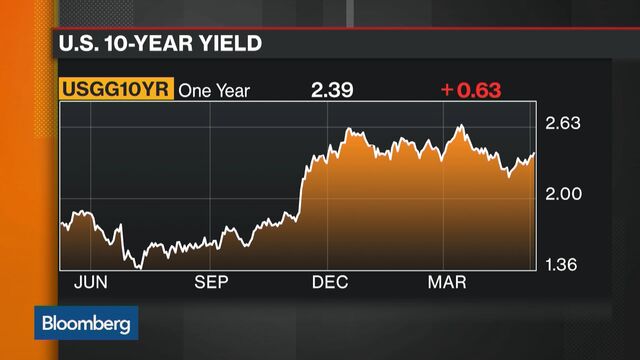 Bond investors are a pessimistic bunch.
After months of fretting about France, the market is wasting no time in finding a new obsession -- and this time Italy is finding itself in the crosshairs. The nation's 10-year bond yields have already climbed by about 10 basis points since Emmanuel Macron's victory in the French election on Sunday, even though such an outcome was considered the most market-friendly before the vote.
Still, investors are now turning their focus to the prospect that the European Central Bank may feel more confident in rolling back its bond-buying program next year. That could potentially coincide with Italians themselves going to the polls -- risking creating a toxic mix for the nation's debt. Citigroup Inc. is forecasting that Italy's 10-year yields could be set to rise to as much as 300 basis points above their German counterparts, a level unseen since 2013 and up from about 180 basis points now.

We are "very wary of the periphery," Citigroup fixed-income strategist Jamie Searle wrote in a note to clients. "The ECB taper -- be it encouraged by implementation constraints or by higher core inflation -- may be happening just as the next big political event risk, namely elections in Italy, hurtles into view."
Public divergences among senior ECB policy makers in recent weeks have fueled speculation that the institution is closer to signaling the withdrawal of its extraordinary stimulus, which has been running since 2015. Italian bonds have been the third-biggest beneficiary of the plan in terms of total purchases, behind only Germany and France.
Quantitative easing has helped insulate European securities from previous electoral risk, and its removal could lead to greater volatility around Italy's vote due next year. The anti-establishment Five Star Movement, which has called for a referendum on the country's euro membership, is currently jockeying in the polls with ex-Prime Minister Matteo Renzi's Democratic Party. The vote could happen sooner rather than later after Italy's constitutional court paved the way for potential early elections in January.
ING Bank NV senior interest-rate strategist Martin van Vliet sees the potential for the Italy-Germany spread to rise to up to 230 basis points before the election, even if it is called early.
"You could argue that the Italian elections are an even bigger political risk than the French elections," he said.
Before it's here, it's on the Bloomberg Terminal.
LEARN MORE