China Deleveraging Pain Puts Investors on Contagion Alert
By , , and
Emerging markets would be most vulnerable, Invesco's Uy says

'We don't yet see it as a big risk-off event,' says Aberdeen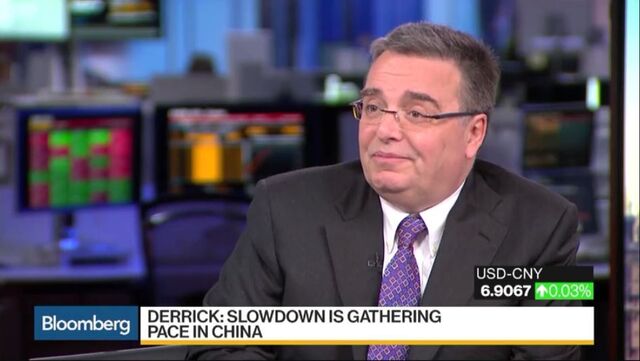 What may be shaping up as China's most concerted effort yet to bring its credit boom under control is spurring investors to gauge any contagion to broader financial markets, a-la 2015, when Chinese turmoil caused global ructions.
Policy makers' moves to crack down on leverage have already wreaked about $500 billion of financial damage domestically, and -- along with evidence economic growth may be peaking -- are dragging on industrial metals and iron-ore prices globally. The key metrics to watch now: the yuan's exchange rate and cross-border capital flows.
For now, what's giving heart to foreign investors is China's success in tamping down capital outflows, as seen in foreign-exchange reserves rising for three straight months. Also, moves to rein in shadow banking and tighten liquidity in money markets in recent months haven't been accompanied by any unexpected tweaks to exchange-rate policy. Finally, there's the ultimate sedative for investor anxiety: confidence that President Xi Jinping will avoid any major market crash before the Communist Party's leadership gathering this fall.
"We think it's largely contained," said Gorky Urquieta, who helps manage a $12 billion emerging-market debt portfolio at Neuberger Berman in Atlanta, referring to China's deleveraging campaign. "It's a problem that will impact domestic markets," he said, highlighting that pressures on the yuan "have subsided pretty significantly."

China's shift down from the 10 percent plus growth rates seen before 2011 have periodically roiled overseas markets and economies, especially when accompanied by policy moves executed by a Communist government where decision-making is opaque compared with developed markets.
Over time, Chinese officials have expanded their communication, and confidence has grown that the bulk of the slowdown is behind the economy, with expansion rates trending between 6.5 and 7 percent. Recent stability in growth has itself given officials courage to take on the record credit expansion first unleashed in the depths of the 2008 global crisis.
"With Chinese leaders more confident about growth ahead of the fall Party Congress, regulators now have more room to squeeze leverage and froth out of bond and property markets," said David Loevinger, a former China specialist at the U.S. Treasury who is now an analyst at fund manager TCW Group Inc. in Los Angeles. "While there's a risk regulators tighten too much, triggering a sharp slowdown or financial instability ahead of the Congress won't be a career-enhancing move."

Unlike developed nations in recent years where debt growth was concentrated at the national government and household levels, credit in China has boomed in corporate and local-authority spheres, much of it off official balance sheets -- in a country where accounting standards are still in a process of development. Leverage has periodically inflated prices of everything from commodities to property and stocks.
The latest regulatory moves have brought some off-balance sheet items, including wealth-management products, under greater scrutiny, triggering a series of knock-on effects, including a near-shutdown in some areas of the onshore market for corporate bond issuance. Commodity prices have also been hit globally, with iron ore and copper tumbling, along with oil -- though particular markets have been marked as well by global supply concerns.

"We've already seen commodity prices fall quite substantially over the past month, but we believe there's still significant downside to go from here," said Atul Lele, chief investment officer of Nassau, Bahamas-based Deltec International Group, which has $5.5 billion in assets under management and advice. Deltec is shorting the shares of resources companies including BHP Billiton Plc, Rio Tinto Plc and Vale SA, and emerging-market equities with high exposure to China, such as mining companies, he said.
What hasn't happened is a broader hit to emerging markets, often seen as leveraged to China's growth rate because of the second-largest economy's influence on appetite for riskier assets more generally. South Korea's stock market hit a record high Monday, and emerging-market bond premiums are still historically low, for example.
The subdued dollar is helping, with expectations for U.S. economic reflation easing and investors confident that the Federal Reserve isn't about to embark on an accelerated tightening path that pulls down emerging-market currencies. That's allowed the yuan to serve as an anchor for other exchange rates as well.
"Remember that what's been achieved has happened while the dollar was stable," Gene Ma, chief China economist at the Washington-based Institute of International Finance who previously worked at Tudor Investment, said at a Tokyo conference Tuesday, referring to the drop-off in Chinese capital outflows.
The next hurdle for investors: China's April economic indicators, with most economists anticipating them to show some softening from a surprisingly strong first quarter. The main numbers are due May 15, after trade data on Monday showed a slowing in both import and export gains.
"We are paying very close attention" to China's policy tightening, said Ray Uy, head of macro research at Invesco Advisers Inc. in Atlanta. "Emerging markets would be the most vulnerable to any abrupt tightening in global financial conditions triggered by developments in China." Even so, "the China story is far from over and is still one of the most compelling structural opportunities in the market."
— With assistance by Lananh Nguyen, Aline Oyamada, and Stefania Spezzati
Quotes from this Article
Before it's here, it's on the Bloomberg Terminal.
LEARN MORE