Blankfein Says Banks Should Be Unshackled From Volcker Rule
By
Dodd-Frank rule stymies 'important public function,' CEO Says

Goldman chief says 'more flexibility' is needed on regulations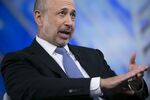 U.S. banks with federally insured deposits should be freed from Volcker Rule restrictions that prevent them from taking some types of principal risk, a market-making function that provides a valuable public service, Goldman Sachs Group Inc. Chief Executive Officer Lloyd Blankfein said.
Banks are hamstrung by rules that make it more difficult to hold inventory and act as principals, and should be unshackled to foster a more healthy market, Blankfein said Tuesday in an interview on CNBC. The CEO, whose firm gets almost half its revenue from stock and bond trading, said he's "sympathetic" to the idea that banks shouldn't be allowed to make bets solely for their own account.
"They should be able to be principals because market-making is a very important public function of companies like ours," Blankfein said. "If we don't do that, the drop in liquidity will not allow other people and industries and investors to accomplish their objectives, which are beneficial to the financial markets. There should be more flexibility."
Blankfein's comments are some of the strongest yet by a large-bank CEO since President Donald Trump told Treasury Secretary Steven Mnuchin to examine banking rules and come up with a plan to eliminate some. The CEO was taking aim at the Volcker Rule, a provision in the 2010 Dodd-Frank Act that limits banks from making proprietary bets to reduce their risk-taking. Mnuchin and Trump's top economic adviser, Gary Cohn, used to work at Goldman Sachs.
When asked a similar question in February about what he'd want rolled back, Blankfein said he'd like to use less equity funding and more leverage. He reiterated that Tuesday, saying he believes banks are overcapitalized.
Read more: Blankfein also raises concern about European elections
Before it's here, it's on the Bloomberg Terminal.
LEARN MORE