business
Blankfein's Lament: EU Still Faces More Existential Crises
By
Bloc's future keeps getting threatened by national elections

'How do you live like that?' Goldman CEO says, lauding U.S.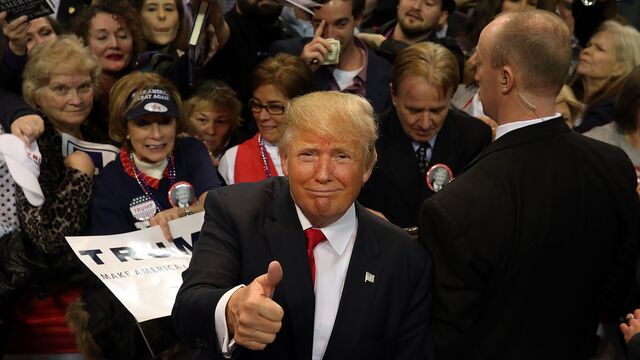 Goldman Sachs Group Inc.'s Lloyd Blankfein is wondering how many existential crises the European Union has left.
Emmanuel Macron's victory in France's presidential election this week gave a boost to the bloc's supporters, dealt a blow to those who want to see it broken up and soothed global markets. But as the Goldman Sachs leader and history buff described his admiration for the U.S. Constitution at an event Tuesday, he expressed doubts about whether the EU is structured to achieve such longevity.
"Now there'll be an Italian election, a German election, and we have to get each one of them right or, again, it's existential," Blankfein said. "If you lose one of those elections and it's a populist party that runs and wins on the basis that they will pull out of the EU, and if it's a certain number of the bigger countries, that feels like it's existential for the whole European experiment."
Blankfein made his remarks two days after French voters elected Macron, defeating Marine Le Pen, who had run on anti-EU sentiment. The election provided a bulwark against a wave of nationalism that last year propelled the U.K. to vote to leave the EU and later helped sweep President Donald Trump into power in the U.S.
'Risk Receding'
ING Groep NV Chief Executive Officer Ralph Hamers struck a more optimistic tone while discussing the EU's future on the sidelines of his bank's shareholders meeting in Amsterdam a day after France's election.
"The risk is receding for sure," he said. "You've seen that the pro-European politicians in the end do get a majority, which is basically support for the EU." And ultimately, 2017 may be viewed as the year that the EU and euro regained their support, he said.
Goldman Sachs is now making a variety of contingency plans for navigating the U.K.'s so-called Brexit. The idea is to execute as little as possible -- such as moving employees from London to other European financial centers -- while waiting to see what the government can negotiate, Blankfein said. He hoped authorities will give companies ample time to adjust operations to avoid disruption.
In the meantime, voters in Italy and Germany must now reject anti-EU populists as well, a reality that injects near-constant instability into the region, he said.
"How do you live like that and go from one existential crisis to another like that, where anyone can do it in?" Blankfein said. "I think of what was accomplished in our history, and I think the test is still outstanding for Europe."
— With assistance by Richard Partington
(
Updates with comments from ING Groep's CEO from fifth paragraph.
)
Before it's here, it's on the Bloomberg Terminal.
LEARN MORE