politics
Balance of Power: Trump's Flynn Problem
By and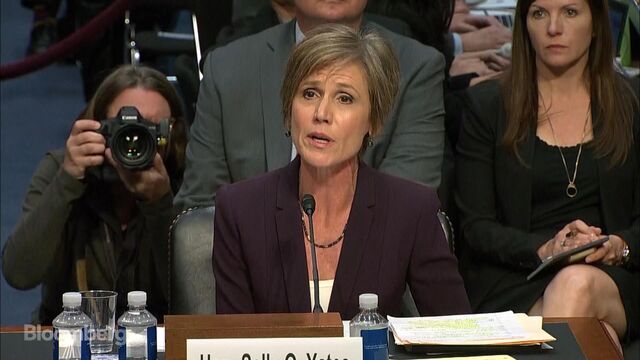 Sign up to receive the Balance of Power newsletter in your inbox, and follow Bloomberg Politics on Twitter and Facebook for more.
Donald Trump's Michael Flynn problem won't go away. New details are putting new pressure on the U.S. president to explain why it took so long to fire his national security adviser, who also could face legal jeopardy in an ongoing FBI probe.
In congressional testimony Monday, prosecutor Sally Yates said she told Trump's White House counsel -- over two meetings and a phone call -- how Russia could blackmail Flynn for lying to the vice president about a meeting with the Russian ambassador.

Was Flynn fired on the spot? No. It took 18 days -- and came only after the Washington Post exposed Yates's warnings. Even before Yates, another person had raised questions about Flynn's character: Barack Obama, who warned Trump not to give him a top job. Trump ignored Obama and hired the loyalist general anyway.
Voters would probably give Trump a pass on one bad staff pick. It's his predilection for people with a soft spot for Russia that could prove more troublesome.
With no fewer than four of Trump's associates under investigation, that is where the real danger to his presidency lies.
Global Headlines
South Korean results are about to roll in | The first projections from the presidential election are due after polls close at 8 p.m. local time (7 a.m. EST). Left-leaning Moon Jae-in is favored to win after Park Geun-hye was ousted in a graft scandal. He has vowed to reform the family-owned conglomerates that have dominated the country, but managing tensions with North Korea may be his trickiest challenge. While Trump has threatened military intervention, Moon favors talks to bring Kim Jong Un to heel.
Clapper testifies | Former Director of National Intelligence James Clapper repeated what he's been saying all along when he testified on Capitol Hill on Monday: He knows of no evidence that Trump's campaign colluded with Russian agents to influence last year's election. Trump was happy, using Twitter to call the narrative a hoax. An FBI investigation is ongoing.
The Kushners' latest China pitch is in trouble| When Jared Kushner's sister pitched a New Jersey development to Chinese investors over the weekend, she put her family's White House connections on full display. What she didn't mention was that the project has suffered a slew of problems,write Caleb Melby and David Kocieniewski. They include the exit of its key tenant, the loss of millions in tax breaks and a curdling political relationship with the mayor of its host city.
Turnbull's giveaway budget | Unpopular Australian Prime Minister Malcolm Turnbull splurged on road and rail infrastructure in his latest budget as he seeks to woo disaffected voters with an "Australia First" sales pitch. But the stakes are high: The switch in focus from spending cuts and reining in the deficit could cost the nation its cherished AAA credit rating.
A Texas-sized problem | Trump's plan to spend $1 trillion fixing roads, bridges and airports has already run into trouble. Texas lawmakers rejected a bill that would have allowed the kind of public-private partnerships that are key to his infrastructure plan. Typically, such partnerships repay investors by charging people to use public facilities, and that's difficult to sell to local officials who don't want to raise costs for constituents.
Jokowi ally jailed for blasphemy | Jakarta's outgoing Christian governor was found guilty of blasphemy over comments he made about the Koran. He was accused of the crime after saying last September that his opponents were twisting Koranic verses to say that Muslims should not support a Christian leader. The verdict could bolster hard-line Islamist groups in the world's most populous Muslim country and force President Joko Widodo to adopt a more conservative tack ahead of the next election in 2019.
Just desserts | It's the dinner that people are still talking about. European Union chief Jean-Claude Juncker told Germany's Handelsblatt that he regrets that details of his meeting with Prime Minister Theresa May on April 26 leaked to the press. It was a 'serious mistake,' he said. His office was widely blamed for the leak and prompted May to accuse Brussels of meddling in the U.K. Election. 'She's a tough lady,' he said.
And finally... Forget North Korea, Trump and war in the Middle East. The world is the safest it's been in nearly a quarter century. That's the message sent by the CBOE Volatility Index, a key measure of risk, which fell yesterday to the lowest level since 1993 after Emmanuel Macron beat Marine Le Pen in France's election. Still, some people are worried about all the optimism. "Complacency has returned," says George Goncalves, a strategist at Nomura.

Before it's here, it's on the Bloomberg Terminal.
LEARN MORE