markets
Banks Blast New Aussie Levy as Savers, Shareholders Face Costs
By
Levy on big five banks to raise A$6.2 billion over four years

Charge is equal to about 5% of banks' profits, analysts say
The heads of Australia's biggest lenders have slammed the government's A$6.2 billion ($4.6 billion) bank levy, saying the cost will be borne by shareholders and customers.
Treasurer Scott Morrison announced the levy -- charged at 6 basis points on liabilities over A$100 billion -- to help fund a A$75 billion nation-building infrastructure program, in the budget Tuesday in Canberra. Defending the impost, Prime Minister Malcolm Turnbull on Wednesday said the banks are the most profitable in the world and can afford to pay.
However, the surprise move evoked a furious response from the heads of the nation's biggest banks.
"This levy is a stealth tax" on Australians' savings, Westpac Banking Corp. Chief Executive Officer Brian Hartzer said in an emailed statement. "There is no magic pudding. The cost of any new tax is ultimately borne by shareholders, borrowers, depositors and employees."
His comments were echoed by National Australia Bank Ltd. CEO Andrew Thorburn, who said the levy "will impact millions of everyday Australians who are employees, customers or shareholders of banks."
"A tax cannot be absorbed," Thorburn said in a statement. "This tax is borne by these people. It is not possible to impose a tax without an impact on people, and therefore the wider community."
Lacking Detail
Commonwealth Bank of Australia CEO Ian Narev also criticized the government for not consulting the banks before announcing the plan, which he said lacks detail. "Every extra cost needs to be borne by customers or shareholders, or a combination of both."
Australia & New Zealand Banking Group Ltd. said it was too early to estimate the financial impact of the levy. Macquarie Group Ltd. said the impact of the plan is unclear.
Bank shares fell, having slumped Tuesday when news of the levy leaked.
Commonwealth Bank closed down 0.4 percent in Sydney, after Tuesday falling the most in 15 months. Westpac dropped 0.7 percent, National Australia slid 0.7 percent and Macquarie fell 0.6 percent. ANZ Bank shares rose 0.8 percent, snapping a six-day, 12 percent decline.

The levy will reduce fiscal 2018 earnings at the five banks by 4 percent to 5 percent, according to Morgan Stanley analysts.
Read more: Levy Won't Break Australia Bank Profits -- Gadlfy
The changes "are likely to have a negative impact upon profitability and the competitive position of the five largest banks," Citigroup Inc. analysts led by Craig Williams wrote in a note to clients. Citi reiterated its sell recommendation on Commonwealth Bank, Macquarie, National Australia and Westpac.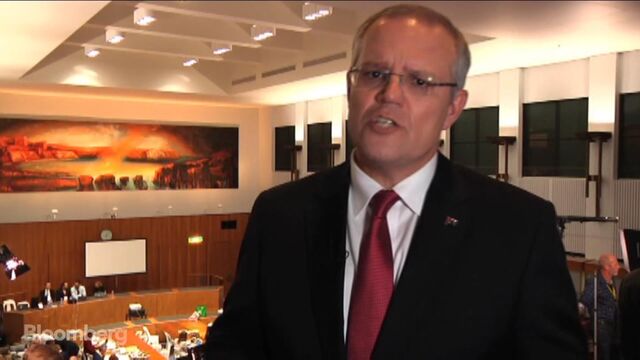 While the move will bring Australia into line with levies imposed in Europe, including the U.K., Germany and Sweden, Westpac's Hartzer said those were to recover the cost of government bailouts in the wake of the global financial crisis.
"No taxpayer funds have been used to prop up the Australian banks," he said, adding that countries that imposed bank levies have much lower corporate tax rates than Australia.
The move from the traditionally business-friendly coalition aims to appeal to indebted voters' anger at banks, which have failed to pass on interest-rate cuts in full even as they posted record profits. The harsher stance from the prime minister -- himself a former Goldman Sachs Group Inc. investment banker -- comes just months after he started to force banking executives to front parliamentary inquiries about their behavior following a series of scandals.
In other measures aimed at the banks, the government announced:
Penalties of up to A$200 million for hiding misconduct
A complaints tribunal with binding rulings will be set up for disgruntled customers
Senior executives who fail to properly register face disqualification and loss of bonuses
A portion of executive bonuses, including CEOs, to be deferred for at least four years
The regulator will be given more oversight on pay
The levy and increased cost of the scrutiny may exacerbate a slowdown in profit growth, with the big banks all recently reporting a decline in interest margins.
"The budget proposals add to emerging headwinds and signal the start of another earnings downgrade cycle," Morgan Stanley analysts said in a note. "In our view, they will try to offset the impact of the levy via lower rates on deposits and/or higher rates on mortgages."
The four major banks would need to raise standard mortgage rates by about 20 basis points to offset the earnings impact of the levy, Morgan Stanley said.
The charge will apply to liabilities including corporate bonds, commercial paper, certificates of deposit and Tier-2 capital instruments, and be levied on the proportion of individual customer's deposits in excess of A$250,000. It will not apply to additional Tier-1 capital. The government estimated it will raise A$6.2 billion over the next four years.
— With assistance by Benjamin Purvis
Before it's here, it's on the Bloomberg Terminal.
LEARN MORE