Australia Focuses on Infrastructure as Growth Doubts Linger
By
Wage growth projections seen as optimistic amid low inflation

Treasurer still forecasts surplus coming in fiscal 2020-21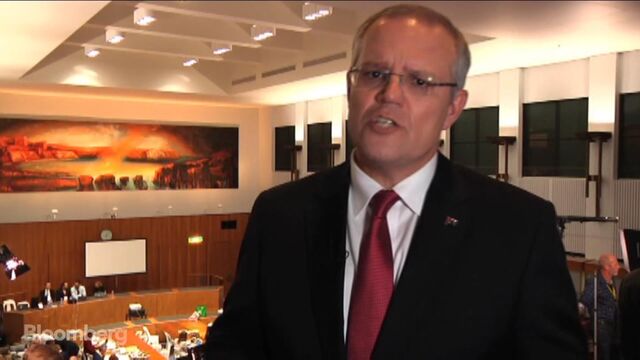 Australia's government is pressing ahead with a nation-building program, picking up the stimulus baton from a central bank low on policy ammunition. But it's simultaneously sticking to a 2021 surplus projection that rests on heroic wage growth assumptions.
Funding for road, rail and runway construction of A$75 billion ($55 billion) over 10 years will support growth from Western Sydney to Western Australia, Treasurer Scott Morrison said in Canberra Tuesday. His plan promises to create tens of thousands of jobs in an infrastructure-building bonanza as workers transition from mining and housing booms.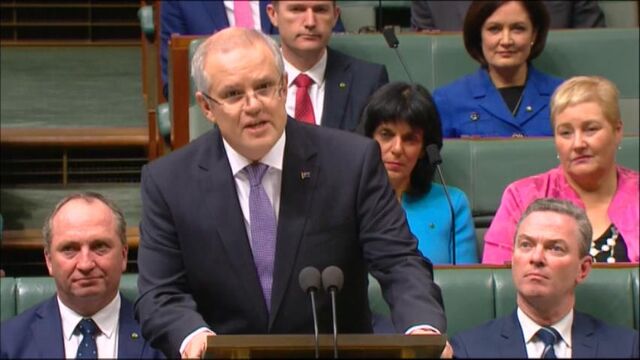 While the forecast deficit of A$29.4 billion for fiscal 2018 is slightly wider than economists predicted, the government sought to calm rating agencies by maintaining a return to surplus at the end of the forecast period. But bridging that gap involves forecasts for Australians' meager wage growth rates to accelerate above 3 percent from less than 2 percent now.
Watch the video: Treasurer Scott Morrison on his nation-building budget
"It's a difficult balancing act -- you're caught between trying to support the economy, while also you've got constraints imposed by the ratings agencies," said Su-Lin Ong, head of Australian economic and fixed-income strategy at Royal Bank of Canada in Sydney. Wage growth forecasts in the budgets are "probably on the optimistic side."
At the heart of Australia's challenge is growth that's generating insufficient jobs: much of the recent economic expansion has been underpinned by resource exports, immigration and house-price gains, leading to excess slack in the labor market. The Reserve Bank of Australia, which supported the economy since late 2011 as successive governments tried and failed to balance the books, is reticent to ease again and further fuel house prices.
Australian bonds gained in Wednesday trading, with the 10-year yield dropping two basis points to 2.66 percent as of midday in Sydney. The currency fell immediately after Tuesday's budget release to a four-month low of 73.29 U.S. cents, although it's since recovered to 73.56.
Economic Debate
Morrison is changing the terms of the economic debate, from dire warnings on debt and deficit to a more politically astute one of prosperity and opportunity. His infrastructure plan aims to create a virtuous circle: such investment may trigger private-sector spending and increased household consumption that would boost the economy.
Projects include a new airport in Western Sydney; acquiring greater or outright ownership of the Snowy Mountains hydroelectric scheme and then expanding it; upgrading highways across the nation; and funding for a Melbourne-to-Brisbane inland railway.

Yet the real impact of road and rail construction is subject to debate.
The investment plan is "highly desirable", with economic and social infrastructure relative to the size of the economy at around 1970's levels, said Michael Blythe, chief economist at the Commonwealth Bank of Australia. "The stock needs to be refurbished and expanded," he said.
But Andrew Ticehurst, an interest-rate strategist at Nomura Holdings Inc., is skeptical. He argues that much of the spending included in the headline infrastructure figure appears to be for previously announced measures.
"In the context of a A$1.7 trillion economy and spread over the next 8 to 10 years, it's not providing a material boost in terms of fiscal expansion," Ticehurst said in an interview.
To help pay for expanded health and education, lift defense spending and fund a disabilities program, the government is increasing some taxes. It's boosting a levy on taxpayers for national health care by half a percentage point, taxing the biggest banks' liabilities to pull in A$6.2 billion; and is making students pay for a larger portion of their degrees.
Whether the budget will save the nation's AAA score "will be a matter for the ratings agencies," Morrison said in a Bloomberg Television interview Tuesday. "We continue to get very strong support in the debt markets for our sovereign debt."

Read more: Banks slugged with A$6.2 billion levy
But growth and wages are key contributors to the projected return to surplus.
Treasury set the Australian economy's speed limit in the budget at 2.75 percent, with GDP growth forecast to rise at that pace in fiscal 2018 and accelerate to 3 percent thereafter.
"We continue to forecast a slower deficit consolidation than projected in the budget," Marie Diron, associate managing director at Moody's Investors Service, said in a statement after the release. "We assume that GDP growth will be somewhat slower than projected by the government, at 2.5-2.7 percent in the next few years."
Too Optimistic?
The growth forecasts are indeed ambitious -- particularly when expansion is expected to be driven by non-mining investment and consumption that have both been weak of late. Wage expectations are even more optimistic: after rising 3 percent in fiscal 2019, the government sees them rising a further half point in 2020 and then to 3.75 percent in 2021.
For a global comparison, even economies like the U.S., U.K. and Germany that are at or near full employment have still got subdued wages. Australia's Treasury sees unemployment falling to 5.25 percent in 2021 -- still a quarter-point off full employment that it sets at 5 percent -- and yet it expects wage growth to be motoring along by then.
The wage forecasts "are prudent, are credible and are indeed responsible," Finance Minister Mathias Cormann said in a Bloomberg Television interview Wednesday. "We continue to have a low official cash rate, we've got a low exchange rate, we've got a flexible labor market."

Treasury also said Tuesday that if inflation is at the low end of the RBA's forecast range, that could result in deterioration of the underlying cash balance by around A$3 billion in fiscal 2019. Wages are of course a key driver of inflation.
A genuine unknown is the trajectory of commodity prices, with iron ore surging last year and in early 2017 before tumbling again. Treasury, like the central bank, is upbeat about the synchronized global upswing that could drive renewed commodity price gains. But it opted for caution on the iron ore forecast, which it sees declining to $55 per ton by March 2018.
The budget "does not pretend to do things with money we do not have," Morrison told parliament on Tuesday.
— With assistance by Garfield Clinton Reynolds, Kimberley Painter, and Benjamin Purvis
Before it's here, it's on the Bloomberg Terminal.
LEARN MORE