Your Evening Briefing
Here are today's top stories.
By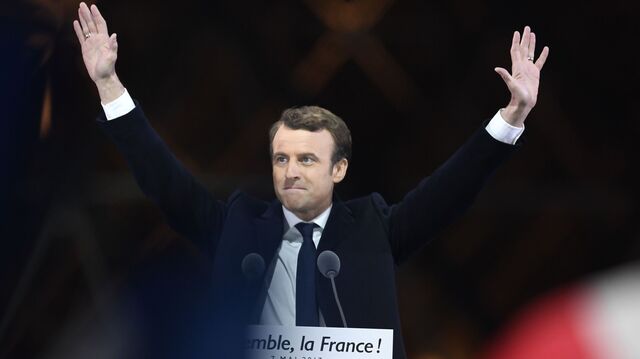 Want to receive this post in your inbox every afternoon? Sign up here.
Less than 48 hours before France went to the polls this weekend, Emmanuel Macron's campaign team said it had suffered a "massive" cyber attack. There was an overwhelming sense of déjà vu for Americans. But the French presidential election ultimately played out quite differently: Macron, the independent centrist, emerged victorious over far-right candidate Marine Le Pen.
And that's just the beginning of the story. —Megan Hess
What Macron's victory means for Europe — and for Merkel. The result of the French election marks the end of one of the most surprising and polarizing elections in modern French history, and the first time ever that two outside candidates vied for the country's highest office. The defeat of far-right candidate Marine Le Pen gives the EU a political shot in the arm and may advance joint projects in areas such as defense, but Macron also faces red lines.
Obama warned Trump against hiring Flynn during the presidential transition, according to two former administration officials. The revelation came hours before President Trump's former Acting Attorney General Sally Yates was set to testify to a Senate panel about Russia's involvement with the U.S. election. Around the same time, Trump tried to shape the Senate's questioning of Yates by suggesting she had knowledge about leaks of classified information to newspapers, and he urged senators to press her on the matter.
Charles Munger says fellow Republicans are "bonkers" for taking away bank regulations. The vice chairman at Warren Buffett's Berkshire Hathaway says the leaders of his political party risk going too far in their efforts to reduce oversight of banks. Some of Munger's views contrast with those of Buffett, a Democrat, but Berkshire executives agreed in a televised joint interview Monday that the U.S. would benefit from a government system that offers health care for all.
The end of the end for Sears. In 1989, the retail chain ruled America. Now, its fall may finally be nearing an end. Over the course of almost three decades, the company experienced what industry observers described as one of the most monumental collapses in business history. The latest bad news was revealed in March, when Sears acknowledged "substantial doubt" about its future, sending the stock plummeting, its worst decline in more than two years.
Trump backer Robert Mercer was sued by a former employee who claims he was fired for calling Mercer a racist and criticizing his support of Trump. The suit by David Magerman — who worked at Mercer's hedge fund, Renaissance Technologies, for two decades — alleges he was wrongfully fired on April 29 after his relationship with Mercer and his family became toxic. Mercer's support of Trump "tainted" the hedge fund, while internal policies that prohibit "politely" speaking out in public are "unfair and untenable," Magerman said.
Are you about to be replaced by a robot? The question has broad implications for the U.S. economy, especially the manufacturing sector. Industries that robotize tend to increase output, but robots can have dire consequences for workers. This map shows where the most robots are installed.
Donuts must be stopped. There's a lot to love about the doughy confection, but — a JPMorgan Chase donut? A $10 donut ice cream cone? A donut sandwich with potato salad? The trend has gone too far. Bloomberg food editor Kate Krader puts it best: "I would do anything for love, doughnuts. But I won't do that."

Before it's here, it's on the Bloomberg Terminal.
LEARN MORE