Your Evening Briefing
Bloomberg News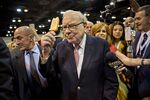 The evening briefing will soon be available in your inbox every day. To be among the first to get it, sign up here.

Regrets... Warren Buffett's had a few. In a sobering moment during the annual bash for Berkshire Hathaway shareholders, the billionaire investor spoke at length about his failure to pounce on opportunities in technology stocks, the challenge of lining up large deals and his frustration with a cash pile approaching $100 billion. And there's more here on what he says about the day after he dies, why plumbers are better values than hedge funds, and how he thinks airlines will fare. —Alex Millson
Chinese money managers are heading to Wall Street in droves. About 324 asset management firms with financial ties to China and Hong Kong have registered with the financial regulator to set up shop in the U.S. They are riding the wave of capital that left China and poured into the U.S. on concerns about bank debt, a real-estate bubble and the yuan.
Hedge funds bailed on the oil market just in time. Before West Texas Intermediate crude nosedived on Thursday, wiping out the rally driven by OPEC's deal, money managers slashed bets on rising prices by 20 percent, according to U.S. Commodity Futures Trading Commission data. Now, they may soon be poised to start betting on the next rally.
Three reasons to stay bullish on Asian stocks. Oil and metals may be blowing a chill wind through risk assets, but investors looking for reasons to stay bullish on Asian stocks have a few charts to keep them warm.
Southeast Asia's most valuable startup rebrands after raising $550 million. Eight-year-old shopping and online games startup Garena has become Sea Ltd. The company, backed by Tencent Holdings Ltd., is staking out a spot as competition in Southeast Asian e-commerce intensifies, particularly in the largely untapped market of Indonesia.
Macau's government is requiring facial recognition checks at ATMs before Chinese UnionPay cardholders can withdraw cash, a stepped-up measure to curb money laundering in the world's largest casino hub. Chinese authorities are seeking to halt billions of dollars worth of outflows that have pushed down the value of the currency and drained capital reserves. 
South Korean voters head to the polls tomorrow after one of the most tumultuous political periods in recent memory. A victory for Moon Jae-in, the left-leaning frontrunner, would end nine years of conservative rule. He has promised to rein in conglomerates that dominate the economy, create jobs for disaffected youth and seek talks with North Korea's Kim Jong Un.
Go ahead and date your digital assistant. When you ask Apple's Siri if she has a boyfriend, she's usually quick to deflect the question. But that's a missed opportunity, according to the creator of Japanese personal assistant-in-a-box Hikari Azuma. Unlike Siri, she's a hologram-like depiction of a miniskirt wearing avatar who can hold a basic conversation, turn on the lights and message you at work. And she doesn't mind flirting.

Quotes from this Article
Before it's here, it's on the Bloomberg Terminal.
LEARN MORE