Trump Suggests Senators Quiz Yates on Flynn Leaks at Hearing
By and
Senate panel to feature former acting attorney general today

President on social media seeks to shape panel's questions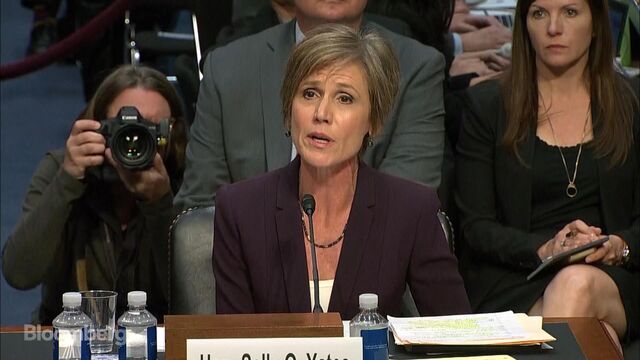 President Donald Trump sought to shape the Senate's questioning of fired Acting Attorney General Sally Yates hours before she was to testify on what White House officials knew about former National Security Adviser Michael Flynn's conversations with the Russians.
In a message Monday morning on Twitter, Trump suggested Yates had knowledge about leaks of classified information to newspapers, and urged senators to press her on the matter.
"Ask Sally Yates, under oath, if she knows how classified information got into the newspapers soon after she explained it to W.H. Counsel," Trump tweeted, an apparent reference to Yates' outreach in January to White House counsel Donald McGahn about contact between Flynn and Russian Ambassador Sergey Kislyak.
Trump suggested in a separate tweet on Monday that any problems with Flynn, who was fired in February, should have been flagged by the previous administration. Flynn, the one-time director of the Defense Intelligence Agency, had been "given the highest security clearance by the Obama Administration – but the Fake News seldom likes talking about that," Trump wrote.

Yates and James Clapper, director of national intelligence under President Barack Obama, are set to go before the Senate Judiciary Subcommittee on Crime and Terrorism at 2:30 p.m. Monday for public testimony on "Russian Interference in the 2016 United States Election."
Yates is expected to be questioned about how blunt a warning she gave the incoming administration that Lieutenant General Flynn had provided a misleading account of a telephone conversation with Russia's ambassador to the U.S. during Trump's transition to the White House. News reports indicated Yates warned the Trump team that Flynn, who was eventually forced out for misleading Vice President Mike Pence about the call, might even become a target for Russian blackmail.
The Russians knew that Flynn discussed a potential easing of U.S. sanctions on the call, despite his denials. So did U.S. intelligence agencies, according to lawmakers who say the agencies routinely monitor the ambassador's calls.
Yates was fired as acting attorney general after she instructed government lawyers not to enforce Trump's initial order restricting travel to the U.S. by people from seven majority-Muslim nations. 
Trump and some Republican lawmakers have claimed that the Obama administration had intelligence agencies "unmask" the names of Trump associates that had been redacted in reports on surveillance of foreign subjects -- and then leaked that information. The Senate subcommittee chairman, Senator Lindsey Graham of South Carolina, sought to question Susan Rice, Obama's national security adviser, but she declined his request to testify. Rice has denied leaking names.
Democratic Senator Richard Blumenthal of Connecticut told CNN on Monday that the committee is seeking to determine when the Trump administration learned about what he called Flynn's "lies" about his contacts with Russians.
"There is clear evidence that president Trump was briefed after the briefing and warning that was provided by then-Acting Attorney General Yates," Blumenthal said. "The question is why the administration waited" before dismissing Flynn.
Before it's here, it's on the Bloomberg Terminal.
LEARN MORE