Front-Runners Target Smog as Koreans Don Masks for Election Day
By
Leading candidates focus on air pollution in election campaign

Moon and Ahn want to cut coal use and restrict nuclear power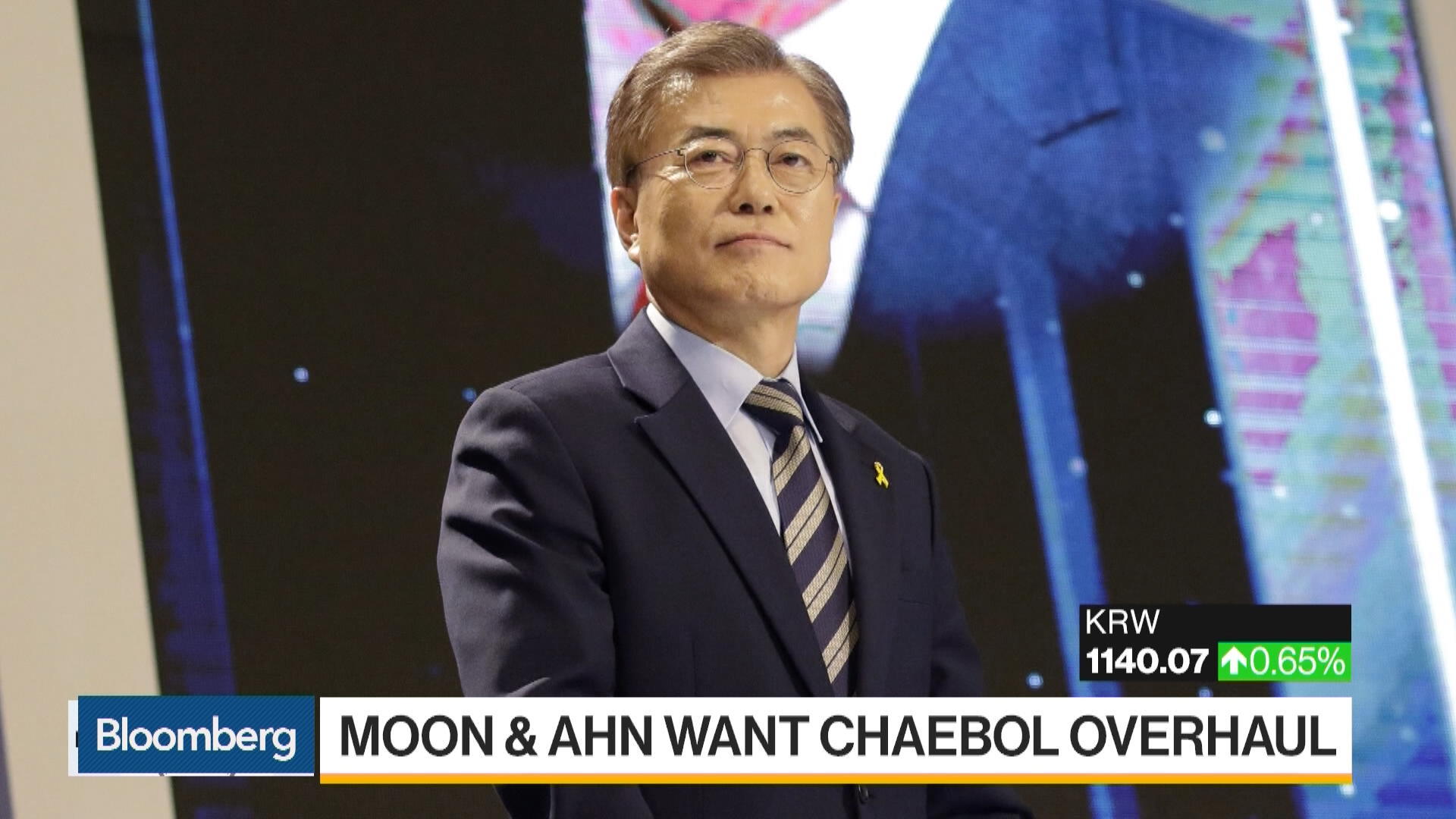 Candidates aspiring to become South Korea's next president are promising clean air with clean governance.
The front-runners are aiming to win over voters by promising to tackle pollution levels that have soared to their worst reading since 2015. Citizens head to the polls on Tuesday at a time when they are facing the yearly spring problem of ultra-fine dust blowing in from China to cloak Seoul. They'll also likely be wearing masks outside before heading back home to their air purifiers.
The candidates are trying to gain public confidence by pledging to reduce corporate influence in politics, after a corruption scandal led to the impeachment of former President Park Geun-hye in March and fast-forwarded the country's election. The favorite to win, Moon Jae-in, says he will expedite plans to close several coal-fired power plants and push to remove old diesel cars from the nation's roads.
His rival Ahn Cheol-soo says his party will turn coal-fired plants into eco-friendly generators while also lowering operating rates for half the year.
"Pollution has been a hot topic," said Lee Sang-Youp, a research fellow at Korea Environment Institute. "It became everyone's main energy policy but none of them really elaborated on how they will actually do it, except that they will reduce coal-fired plants."
The two candidates are at loggerheads on several issues, such as the country's missile-defense policy and how to revive the economy, but their outlook on coal is alike. Both agree that the fuel, which is used in about 40 percent of the country's power generation, needs to be curtailed. South Korea, which currently has 53 coal-fired plants, plans to build 20 plants by 2029, while closing 10 that have been operating for more than 30 years by 2025.
Health Fears
South Koreans have real cause for concern about their long-term health. Just over 1,000 out of every one million people in the country will prematurely die in 2060 due to air pollution-related diseases, triple 2010 figures, the Organization for Economic Cooperation and Development forecasts. The average concentration of PM2.5, a fine-particle pollutant, surged 22 percent last month from a year earlier in Seoul, local government data show. That's prompted sales of air purifiers and masks to surge, according to local newspaper reports.
Nuclear power is also under fire from the candidates. Both Moon and Ahn want to scrap or suspend plans to construct new plants amid ongoing debates over the safety of atomic energy following Japan's Fukushima nuclear meltdown in 2011.
Below is a list of the two top candidates' energy policy:

Moon Jae-in:
Front-runner Moon Jae-in of the Democratic Party of Korea said he will idle old coal-fired plants during April and May when fine dust levels tend to peak, and permanently close 10 aged coal-fired plants earlier than scheduled, while reconsidering plans to build nine plants.
He pledges to elevate the issue of ultra-fine dust as his top agenda during Korea-China talks in a bid to reduce dust levels by more than 50 percent.
Moon blames diesel cars for creating pollution and he wants to increase the distribution of environment-friendly cars and remove old diesel vehicles.
He says he will scrap plans to build new nuclear plants, including No. 5 and No. 6 Shin-Kori reactors, while immediately closing Wolsong No. 1 plant.
LNG-generated plants will operate at as high as 60 percent of its capacity and Moon plans to increase the use of renewable energy to 20 percent by 2030.

Ahn Cheol-soo:
Ahn Cheol-soo of the People's Party says he will cancel approvals for the four coal-fired plants that have not yet started construction and turn them into eco-friendly generators.
Between November and April when fine dust levels tend to peak, he will lower the operating rates at coal-fired plants to 70 percent of capacity. 
Ahn will scrap plans to build No. 5 and No. 6 Shin-Kori nuclear reactors and says he is against extending the lifespan of aged plants.
Ahn says his administration will treat high concentrations of fine dust as a national disaster and prioritize the matter as his top agenda during Korea-China discussions.
He aims to raise renewable energy to 20 percent by 2030.
— With assistance by Kanga Kong
Before it's here, it's on the Bloomberg Terminal.
LEARN MORE