Renault Chief Ghosn Sees 'Good News' in Macron's France Victory
By and
Campaign to support globalization cheers CEOs, Ghosn says

Too early to tell if Macron will lower France's Renault stake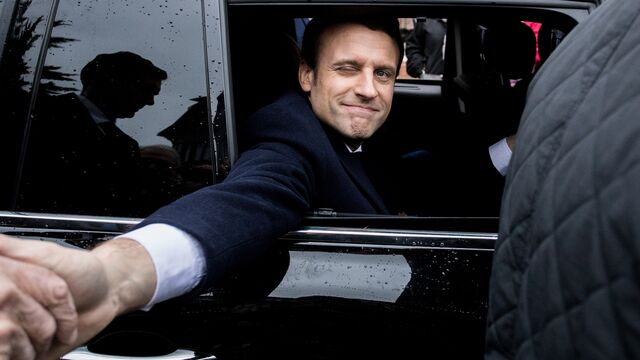 Carlos Ghosn, chief executive officer of French carmaker Renault SA, sees the embrace of globalization by France's president-elect Emmanuel Macron as a harbinger of faster growth for the country's economy.
"The fact that he's somebody who believes in the global market, in the integration of Europe and the importance of Europe, it's obviously very good news for all companies and for all enterprises," Ghosn, who is also chairman of Renault's Japanese partners Nissan Motor Co. and Mitsubishi Motors Corp, said in an interview in New York on Monday.
Ghosn spoke a day after independent candidate Macron was elected president of France, defeating anti-European Union politician Marine Le Pen. His large margin of victory helped make Ghosn and other chief executives more optimistic about Macron's ability to carry out his promises and to open a new chapter in France's economic development, he said in the interview.
State Exit?
The ballot was critical for Renault amid questions about the French government's 19.7 percent stake in the carmaker. Ghosn has said a state exit from Renault, which is based in the Paris suburb of Boulogne-Billancourt, could be a catalyst for restructuring the company's cross-shareholding structure with Nissan, potentially enabling a deeper alliance.
Nissan owns 15 percent of Renault, though doesn't exercise voting rights, while the French company holds about a 44 percent of its Yokohama-based partner. A full merger won't take place as long as France is a Renault shareholder, according to Ghosn.
The CEO said it's too soon to know what specific steps Macron will take with the Renault shares and therefore too soon for him to comment. Ghosn has chafed at the state's holding, which authorities boosted in 2015 to secure extra voting rights. That in turn thwarted efforts to increase Nissan's sway in the alliance.
The frictions arose in part because Ghosn didn't find out about the increase until Macron -- who at the time was economy minister under President Francois Hollande -- told him about the move in a late-night phone call just hours before the news became public.
The government's move also raised concerns at Nissan that France might seek a role at the Japanese partner, though that dispute was defused when the state pledged not to interfere in the alliance's governance.
And while Macron has supported Ghosn's overall strategy at Renault, the president-elect has criticized the CEO's remuneration and threatened to come up with laws limiting executive pay.
Alliance Governance
Still, Macron is more of a free-market proponent than his predecessor and considered likelier to reduce the government's involvement in private enterprise. Officials originally portrayed the state's purchase of the extra 4.7 percent stake as temporary, although the holding hasn't changed since.
Under the new president, France stands to be more inclined to sell some of its stake in Renault, Evercore ISI said in a note Monday, calling the implications of the vote "positive" for the carmaker.
"Macron may be key to unlocking value," in the Renault-Nissan alliance, Bloomberg Intelligence analyst Michael Dean wrote in a note. "Selling off state-owned assets is a potential source of funding."
Renault and Nissan established their tie-up in 1999, when Nissan was on the verge of bankruptcy. The Japanese carmaker has since become bigger and more profitable than Renault.
Tensions over France's stake are lingering. In observations from a report by the country's Court of Audits earlier this year, Renault argued the purchase of the additional stock was made "in an insider-dealing situation."
Macron's victory thwarts policy plans by Le Pen's National Front to ditch the euro currency and restrict France's international trade, which would have disrupted Ghosn's globalization strategy, which also includes a controlling stake in Russian carmaker AvtoVAZ.
"He's been elected for many reasons. One of them is: Do you want to be part of the larger economy, or do you want to be more on a protectionist mode?" Ghosn said in the interview.
Before it's here, it's on the Bloomberg Terminal.
LEARN MORE