Obama Warned Trump Against Hiring Flynn, Ex-Officials Say
By and
Flynn said to have come up in Obama-Trump Oval Office meeting

It's no surprise Obama wasn't a 'a fan' of Flynn, Spicer says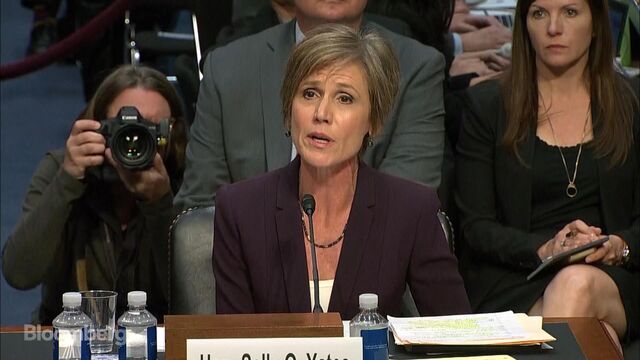 President Barack Obama warned Donald Trump during the presidential transition against hiring Michael Flynn as his national security adviser, according to two former Obama administration officials.
The revelation came hours before Trump's former Acting Attorney General Sally Yates, a holdover from the Obama administration, appeared before a Senate panel to testify about what the Trump White House was told about Flynn's communications with Russian officials between the election and Trump's inauguration. Obama's warning was reported earlier by NBC.

Obama raised his concerns about Flynn during his Oval Office meeting with Trump on Nov. 10 but only after the president-elect asked for advice on personnel matters, according to one of the Obama administration officials. In addition, senior officials on the Trump transition team had concerns about potentially improper communications between Flynn and his Russian contacts, the official said.
The former Obama administration officials spoke on condition of anonymity about matters related to an ongoing FBI investigation.
Confirming that the conversation took place, White House press secretary Sean Spicer told reporters that "President Obama made it known that he wasn't exactly a fan of General Flynn's, which shouldn't come as a surprise" given the role Flynn played in the campaign as a Trump supporter and sharp critic of Obama.
Spicer asked why Obama's administration didn't move to revoke Flynn's security clearance if it had concerns about him.
Read about twists and questions in Trump-Russia saga -- a QuickTake Q&A
At the hearing, Yates was expected to be questioned about how blunt a warning she gave the incoming administration that Flynn provided a misleading account of a telephone conversation with Russia's ambassador to the U.S. during Trump's transition to the White House. News reports indicated Yates warned the Trump team that Flynn might even become a target for Russian blackmail.
But in prepared opening remarks, Yates told the committee that her answers to many questions would be limited.
"I intend my answers today to be as fulsome and comprehensive as possible while respecting my legal and ethical boundaries," she said. "Many of the topics of interest today concern classified information that I cannot address in this public setting, either directly or indirectly. My duty to protect classified information applies just as much to me as a former official as it did when I led the Department."
Trump's Tweet
Earlier Monday, Trump sought to shape the Senate's questioning of Yates, suggesting on Twitter that she had knowledge about leaks of classified information to newspapers, and urging senators to press her on the matter.
"Ask Sally Yates, under oath, if she knows how classified information got into the newspapers soon after she explained it to W.H. Counsel" Trump tweeted, an apparent reference to Yates' outreach in January to White House counsel Donald McGahn about contacts between Flynn and Russian Ambassador Sergey Kislyak.
Flynn was asked to resign as national security adviser in February after the Trump administration found that he misled Vice President Mike Pence about a phone conversation with Kislyak.
Still, Trump since then has repeatedly defended him. Later in February, during a news conference, Trump called Flynn "a wonderful man," adding, "I think he's been treated very unfairly by the media." On March 31, after reports that Flynn's lawyer was seeking a deal in exchange for testimony before Congress, Trump tweeted that the former national security adviser "should ask for immunity in that this is a witch hunt (excuse for big election loss), by media & Dems, of historic proportion!"
Blaming Obama
But he's also tried to pin blame on Obama. In a Twitter posting on Monday, Trump wrote, "General Flynn was given the highest security clearance by the Obama Administration -- but the Fake News seldom likes talking about that."
While Flynn headed the Defense Intelligence Agency during the Obama administration, he was ousted amid strife with others in the intelligence community and questions about his management of the agency.
Yates was fired as acting attorney general after she instructed government lawyers not to enforce Trump's initial order restricting travel to the U.S. by people from seven majority-Muslim nations.
— With assistance by Toluse Olorunnipa, Shannon Pettypiece, and Steven T. Dennis
Before it's here, it's on the Bloomberg Terminal.
LEARN MORE