markets
Merkel Targets Next Election Prize in Germany's Biggest State
By and
North-Rhine Westphalia holds state vote this coming Sunday

The state is currently governed by the Social Democrats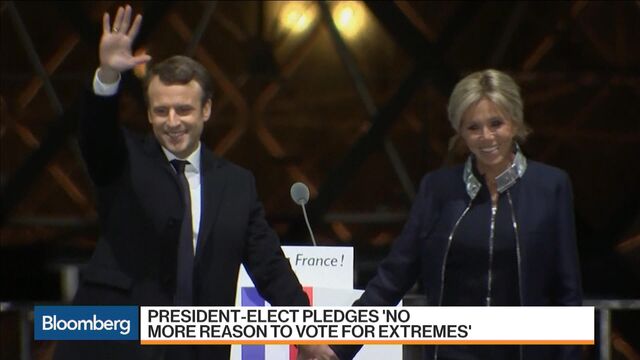 German Chancellor Angela Merkel vowed to win back the nation's most populous state for her party next weekend as she seeks to consolidate momentum in her campaign for a fourth term.
Fresh from a victory for her Christian Democratic Union in another regional election, Merkel is shifting her sights to Sunday's vote in North Rhine-Westphalia, a region with more than a fifth of Germany's population that's the last testing ground before the national vote on Sept. 24. Governed by the Social Democrats, it's also the home state of Merkel's SPD challenger, Martin Schulz.
North Rhine-Westphalia's diverse electorate and traditional labor strength always make it a key prize in Germany's electoral calendar. On Sunday, Merkel's CDU ousted an SPD incumbent in state election in the smaller northern state of Schleswig-Holstein.

"We were very happy today," Merkel told reporters in Berlin on Monday after a meeting of her party's national leadership. Then, she said, the discussion moved very quickly to "the task of bringing up all the things that the state government in North Rhine-Westphalia hasn't done right -- and that's a lot. I'll still be campaigning there myself. We'll be going full speed ahead for another couple of days."
Public support for Merkel, 64, is rebounding after she spent much of last year dealing with a record influx of refugees, which divided her Christian Democrat-led bloc as she stuck to her open-borders stance. That was followed by an SPD surge in the polls in early 2017 after the party chose Schulz, a former European Parliament president, as her main challenger.
Merkel Ahead
National polls now put Merkel's bloc as many as 8 percentage points ahead of the Social Democrats, who have been the junior coalition in her government in Berlin for the last four years.
In North Rhine-Westphalia, polls show the CDU and SPD running neck and neck, putting pressure on the Social Democrats to avoid another defeat. Schulz, who's seeking to deny Merkel a fourth term on Sept. 24, called the result in Schleswig-Holstein a setback for his party.
"This isn't a happy morning for us, there's no way to pretend otherwise," Schulz told reporters in Berlin on Monday.
Steel industry jobs have emerged as a factor in the North Rhine-Westphalia campaign, with Thyssenkrupp AG's push to restructure its operations fueling fears of layoffs among its 22,000 workers in the state. The issue is a particular threat for SPD state premier Hannelore Kraft, whose party has close union ties and needs their backing to win another term.
Coal and Steel
Once a coal-and-steel powerhouse, the state created under British occupation after World War II is also home to Bayer AG, Deutsche Telekom AG, Deutsche Post AG and all of Germany's biggest utilities. The region has a gross domestic product of almost 650 billion euros ($710 billion), comparable to that of Switzerland and Turkey.
Seeing the region flip to CDU control would hand Schulz his third consecutive state electoral defeat since he became the SPD's chairman and candidate.
"Angela Merkel can breathe a sigh of relief -- she holds most of the cards," Bild, Germany's most-read newspaper, said in an editorial on Monday. "Martin Schulz has to get through the North Rhine-Westphalia election, for starters."
Before it's here, it's on the Bloomberg Terminal.
LEARN MORE