Home Capital Halts Dividend, Adds Former Pension Executives
Maciej Onoszko and Kim Chipman
Embattled mortgage lender cuts dividend as deposits decline

CIBC client buying C$100 million of Home Capital's 2017 bonds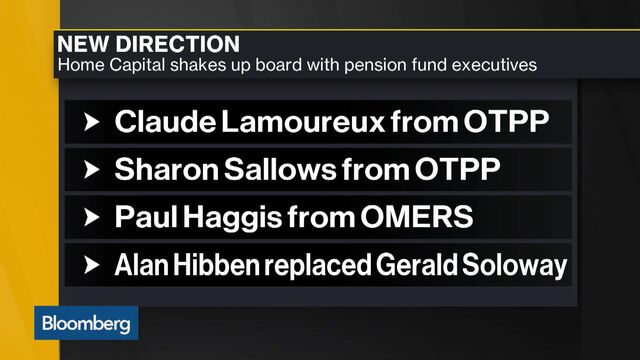 Home Capital Group Inc. suspended its dividend and added two former pension fund executives to its board as the mortgage lender tries to win back shareholder trust following accusations that it misled investors over fraudulent loan applications.
The Toronto-based lender, facing a run on deposits, said it will suspend its quarterly dividend to "manage liquidity," according to a statement Monday. The company's high-interest savings accounts, used to fund its mortgages, have slipped to C$192 million ($140 million), from almost C$2 billion five weeks ago. The guaranteed investment certificates, or GICS, fell to C$12.6 billion, from C$12.9 billion last month.
The run on deposits and the regulatory accusations have forced the company to consider a sale, while sparking concerns the fallout may lead to a slowdown in the real estate market, which has been a key driver of growth for the Canadian economy.
Home Capital rebounded 20 percent Monday, halting three days of declines. The stock has plunged about 68 since April 19, when the Ontario Securities Commission made public its allegation that the company misled investors. The drop has reduced the market value to about C$452 million.
Home Capital's woes are having a ripple effect on other parts of the mortgage bond market. At least two bond sales are on hold as investors wait to see how the Home Capital situation shakes out, according to people with knowledge of the matter. While discussions on both bond offerings were in early stages, one of the deals would be backed by loans from MCAP Corp., and the other, marketed by Royal Bank of Canada, with loans from Home Capital and Equitable Group Inc., said the people, who asked not to be identified because the talks are private.
Gun Shy
"At the moment, investors are a little bit gun-shy," said Mark Carpani, a money manager at Ridgewood Capital Asset Management, which oversees C$1.1 billion in assets. He usually looks at residential mortgage bond sales, but is more hesitant about them now.
Still, fears that Home Capital's problems will have a widespread impact on Canada, the world's fastest-growing Group of Seven economy, are unwarranted, Deutsche Bank macro strategist Sebastien Galy wrote in a note to clients on Monday.
"We want to be perfectly clear -- this is an isolated event that has no impact on our broader outlook for the Canadian economy," Galy said, noting the strength of Home Capital's mortgage portfolio. "This is not the canary in the coal mine for Canadian housing and in fact has nothing to do with confidence in the Canadian housing market."
The mortgage lender may have found support for its own bonds that mature May 24. Canadian Imperial Bank of Commerce said it has a Canadian institutional buyer for as much as C$100 million of the 2.35 percent Home Capital debt. The offer is for 92.5 cents on the dollar, according to an emailed statement from the Toronto-based bank, which declined to identify the buyer. The three-year bonds, which have C$325 million outstanding, were quoted at about 94 cents as of 8:38 a.m. in Toronto on Monday, according to a trader who declined to be identified.
New Directors
Home Capital continued to shake up its board, adding Claude Lamoureux, Paul Haggis and Sharon Sallows. Lamoureux is the former head of the Ontario Teachers' Pension Plan, Sallows is a former director at Ontario Teachers and sits on the board of RioCan Real Estate Investment Trust, a Canadian mall developer, while Haggis is the former head of the Ontario Municipal Employees Retirement System. Director Brenda Eprile, former chief accountant of the OSC, becomes chair, replacing Kevin Smith, who remains on the board. Lamoureux is also the founder of the Canadian Coalition for Good Governance.
Alan Hibben, a former RBC Capital Markets managing director who specialized in mergers and acquisitions, last week replaced Home Capital founder Gerald Soloway, whom the Ontario Securities Commission named as one of the executives who allegedly misled investors.
Read the inside story on Canada's attempts to contain the fallout from Home Capital
Home Capital's meltdown has shaken confidence in Canadian markets, weakening bank stocks and helping send the loonie to a 14-month low against the U.S. dollar. The Canadian dollar was down 0.5 percent at 1.3715 per greenback, extending its loss since April 19 to 1.7 percent, the second worst performance among major currencies after the yen.
The run on deposits has forced Home Capital to draw about C$1.4 billion from the C$2 billion credit line granted last month by the Healthcare of Ontario Pension Plan, the company said Monday.
Contagion Risk
The risk from Home Capital doesn't stem from the company's size or linkages -- it holds only about 1 percent of Canadian mortgages and these are on its own books, which limits spillovers. However a disorderly fallout from Home Capital would damage a sector which is driving Canadian growth. Real estate, residential construction and finance sectors were responsible for around two-fifths of output in Canada's fastest growing provinces.
— With assistance by Aoyon Ashraf, and Allison McNeely
Before it's here, it's on the Bloomberg Terminal.
LEARN MORE