politics
John Oliver Jumps Back Into Washington's Net Neutrality Debate
By
His rant three years ago helped draw millions of FCC comments

Oliver speaks in defense of rule targeted by Republicans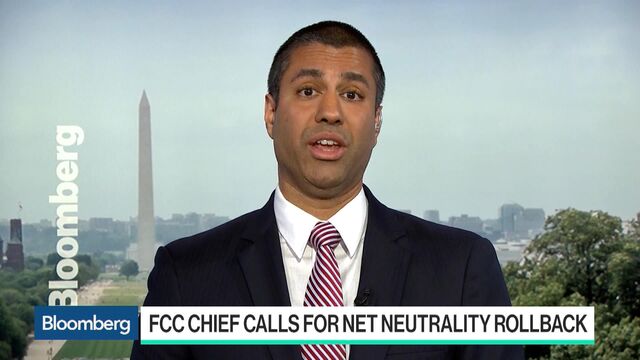 HBO comedian John Oliver jumped again into Washington's net neutrality debate, urging listeners to flood the Federal Communications Commission with comments in defense of the embattled regulation.
Three years ago a rant by Oliver helped spark nearly 4 million comments to the agency as it decided to write rules barring broadband providers such as AT&T Inc., Verizon Communications Inc. and Comcast Corp. from from blocking or slowing some web traffic in favor other content -- their own or a paying customer's. Now, Republican FCC Chairman Ajit Pai, President Donald Trump's selection to lead the agency, is moving to dismantle the rule in a proceeding that will take months.
"I'm calling upon all of you, the internet's time wasters and trouble makers, to join me once more," Oliver said Sunday on his show "Last Week Tonight with John Oliver" on Time Warner Inc.'s HBO. "Once more unto the breach my friends!"
Oliver's comments collected more than 400,000 views on YouTube by mid-morning Monday. He directed listeners to a website www.gofccyourself.com leading to the agency's website and making it easier to file comments.
The FCC had received more than 9,000 comments from Sunday through mid-morning Monday. A total of 44,000 comments have been filed since the FCC began accepting responses on April 26.
Mark Wigfield, an FCC spokesman, didn't immediately reply to a request for comment.
"Tell the FCC to preserve net neutrality," Oliver said. "Once again commenters, America needs you to rise, or more accurately remain seated in front of your computer screen, to this occasion. So please, fly my pretties! Fly once more!"
Before it's here, it's on the Bloomberg Terminal.
LEARN MORE