markets
FrontFour Capital Said to Seek Board Representation at Granite
By
Investors argue Granite could add C$1 billion in acquisitions

Canadian REIT falling short of industrial peers: FrontFour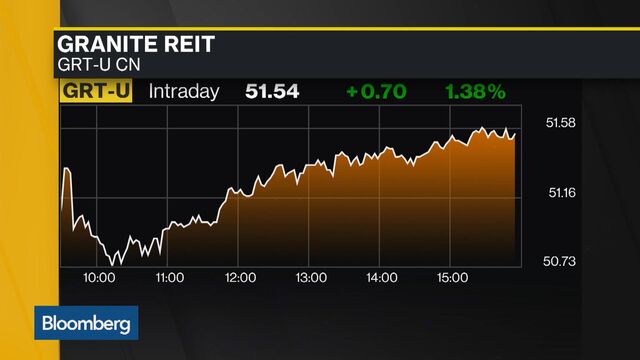 FrontFour Capital Group is seeking board representation at Granite Real Estate Investment Trust arguing that the company is underperforming peers after failing to use its balance sheet efficiently to make acquisitions, a document obtained by Bloomberg shows.
The Connecticut-based activist investor said Granite has the capacity to spend as much as C$1 billion ($733 million) on new purchases, according to the document, which is expected to be filed with regulators Monday. Granite could be worth C$60 a share if it leveraged its balance sheet in line with peers, the document from FrontFour and Vancouver-based Sandpiper Group shows. Shares closed at C$50.84 each Friday.
The Toronto-based company's net debt to enterprise value of about 17 percent is well below an average of about 45 percent for other Canadian commercial REITs, meaning it has the potential to add properties, according to the investors. They aim to nominate independent trustees with "considerable real estate experience, and a focus on unlocking value for all unitholders."
FrontFour and Sandpiper collectively own about 6.2 percent of Granite, the document shows. The investors are disappointed with the company's lower growth rate relative to peers, its performance and prospects, board compensation and other issues, people familiar with the matter said earlier.
Granite, with a market value of about C$2.4 billion, owns and manages a portfolio of about 100 industrial, logistics and warehouse distribution properties. Its operations are spread across North America and Europe and leased primarily to Magna International Inc., Canada's biggest auto-parts maker. 
A representative for Granite wasn't immediately available for comment outside of business hours.
The company launched a strategic review in 2015. After exploring several options, it determined its existing strategy was the best course. FrontFour and Sandpiper argue the company's board and management have been overcompensated for the firm's lack of activity while its general expenses have risen to an industry high. They also urged the company to immediately sell some of its properties in the Greater Toronto area to demonstrate the value of its portfolio, the documents show.
"Over the last 5 years, Granite's Board has failed to achieve its own long term strategic objectives of balance sheet utilization, tenant diversification, and expense reduction," according to the document.
Granite has gained 13 percent this year through Friday, compared with a 2.9 percent increase in the S&P/TSX Capped REIT Index.
Before it's here, it's on the Bloomberg Terminal.
LEARN MORE