Five Charts Show Macron Victory Partly Priced In
By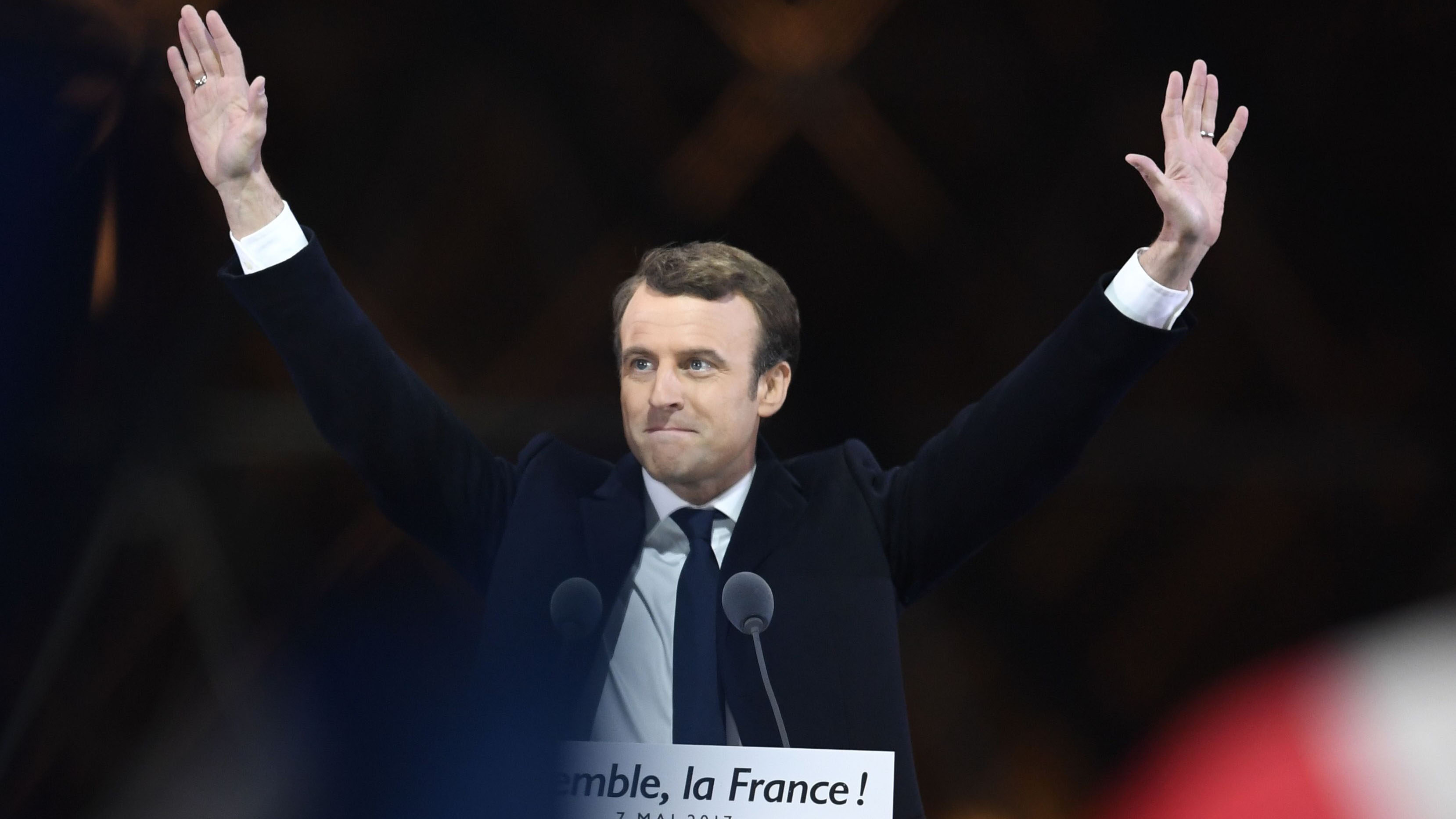 Emmanuel Macron defeated anti-euro candidate Marine Le Pen in the French presidential election Sunday, further reducing worries over the future of the euro area. The region's stocks have already rallied strongly since the first round of the election on April 23. Here are five charts ahead of Monday's opening bell:

France's CAC 40 has gained 7.4 percent, Italy's FTSE MIB is up 8.8 percent and the Euro Stoxx 50 has risen 6.4 percent since the first round of the French presidential election, when the nation averted what investors had said would be the worst-case scenario for a runoff vote, a contest between two populist candidates. This contrasts with a 2.6 percent rise for the FTSE 100 and a 2.2 percent gain for the S&P 500 over the same period. Year-to-date, European stocks are outpacing Wall Street, with the Euro Stoxx 50 up 11.1 percent, while the S&P 500 is up 7.2 percent.

The rally over the past two weeks has been so brisk that it has pushed euro-area equities to 'overbought territory'. The CAC 40 has reached a relative strength index (RSI) of 78.1 -- its highest 'overbought' level since early 2015 -- a technical signal of overheating even before Macron was elected and political risk further dropped.

The rally spurred by the first-round results has pushed French stocks toward their smallest discount to Europe since 2015. The CAC 40 now trades at 15.4 times expected earnings, just below the Stoxx 600 at 15.6 times earnings. In absolute terms, this is the CAC 40's highest price-to-earnings ratio in two years.

In a show of relief that Macron was ahead of Le Pen in the first round, investors rushed into exchange-traded funds tracking French equities. Allocation to French stocks in U.S.-listed ETFs have seen inflows of $562 million in the week following the first round, the most since Bloomberg began tracking the data in 2015. Overall, European equity funds have seen investment inflows of $7.7 billion since the start of the year, according to Bank of America-Merrill Lynch.
Still, this represents only a fraction of the $113 billion in outflows European stocks saw in 2016. "Global asset allocators had been reducing their exposure to Europe during two years, so this will take months to reverse, and European stocks will be buoyed by this big wave of investment inflows," Arnaud de Langautier, who helps manage 950 million euros ($1 billion) at Paris-based group Amplegest, said by phone.

While political risk drops in Europe with Le Pen's defeat, investors are switching their focus back to fundamentals, and European companies are enjoying their best earnings season in almost seven years, which should support stocks even after the recent rally. With companies benefiting from a return of inflation and improving economic growth, analysts are busy upgrading their 2017 estimates for European earnings, instead of trimming the forecasts as they usually do this time of the year.
For Street Wrap of equity market reaction to Macron victory, click here
— With assistance by Justina Lee
Before it's here, it's on the Bloomberg Terminal.
LEARN MORE