Coach's Kate Spade Deal Is Next Step in Quest for Fatter Margins
By
Company to cut promotions at Kate Spade, echoing own strategy

Apparel, handbag companies wooing consumers to pay full price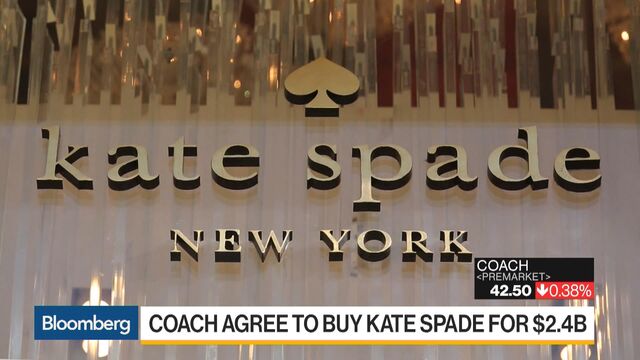 Coach Inc.'s $2.4 billion acquisition of rival Kate Spade & Co. is part of its broader push for fatter profit margins, even if that means settling for lower sales.
As it prepares to take over the handbag maker and revamp its supply chain, Coach indicated that it will pull Kate Spade merchandise from some retailers and so-called flash-sale sites, echoing a strategy it's already adopted for its own brand of luxury goods.
"Near term, it's definitely going to be painful," said Brian Yarbrough, an analyst at Edward Jones & Co. "The good thing is, Coach has been through this before and shown they can be successful."

Heavy discounting by wholesale customers has hurt the cachet of brands like Coach and Kate Spade, which sell mostly through their own stores and online. To fight back, they're trying to move fewer products through discounters like T.J. Maxx and department stores, which have been slashing prices on luxury handbags to cope with slower mall traffic.
Coach said on Monday it will buy Kate Spade as part of its strategy to build a multibrand lifestyle company from New York, where both companies are based. Known for its whimsical handbag designs, Kate Spade has been successful at luring millennials, who make up 60 percent of its customers.
Overly Dependent
Coach Chief Executive Officer Victor Luis said Kate Spade had become "too dependent on the overly promotional channels of online flash sales and wholesale disposition." To boost its own margins, Coach has been adding more handbags to its luxury 1941 line and and stepping up store services to draw shoppers who are willing to pay top dollar.
Coach's comparable-store sales in North America rose 3 percent in the first quarter, the fourth consecutive gain and above the 1.4 percent increase predicted by analysts. Gross margins expanded 1.9 percentage points from a year earlier to 70.9 percent. Coach has also said sales of items priced above $400 now make up 55 percent of handbag sales in North America, an increase from 40 percent a year earlier. The results, delivered last week, sent the stock surging 11 percent, the biggest daily gain in more than six years.
Read more: Coach surges after push to rely less on discounting
Coach, Kate Spade and their rival Michael Kors Holdings Ltd. still have work to do to whittle down the excess inventory at retailers. Among the three, Coach's products are currently marked down the most -- by an average of 42 percent, mostly on shoes. That compares with 40 percent at Michael Kors and 36 percent at Kate Spade, according to Edited, a data-analytics company for the fashion industry.

Higher Prices
The good news for the two luxury brands is that prices on their full-price handbags increased at department stores in the first quarter from the prior three months, according to Edited. Kate Spade saw the biggest gain, 7.8 percent, followed by a 1.7 percent increase for Coach. They grew 0.7 percent for Michael Kors, which relies on department stores for about 46 percent of sales.
That appeared to be in line with the broad apparel industry. The average price of apparel sold at clothing stores and online grew 6 percent year over year at the end of January, to the highest level in at least three years, according to First Data Corp., a credit-card processing services for businesses. At the same time, growth in the number of sales transactions dropped 15 percent at the end of February to the lowest level in at least three years.
That suggested that the attempt to control inventory aimed at reining in steep markdowns may be succeeding, said Chen Grazutis, an analyst at Bloomberg Intelligence.
Still, Coach and Kate Spade will need to bring the right mix of trendy merchandise and heritage pieces at the right price before they can raise prices further, said Katie Smith, a senior fashion analyst at Edited.
"A compelling mix will not only appeal to consumers, but will keep the brands in favorable positioning and full price too," she said. "Coach should be cautious not to elevate pricing of Kate Spade too quickly. Rapidly building price point risks alienating the core consumer."
Before it's here, it's on the Bloomberg Terminal.
LEARN MORE