Brexit Funding Risk Prompts Push to Ready East European Lifeline
By and
EBRD's president warns of potential loss of EU financing

Nations such as Poland have gained most from bloc's spending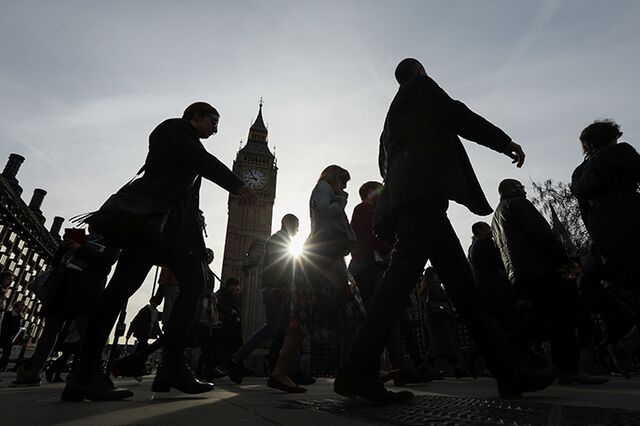 Eastern European nations struggling in the event of a'hard' Brexit may find assistance in an unlikely place: London.
The European Bank for Reconstruction and Development, based in the U.K. capital, is standing ready to help should Britain's departure from the European Union starve parts of the lender's coverage region of financing. Countries such as Poland and Croatia are among the most-reliant on funds from the EU budget, which is set to shrink if the U.K. opts to abandon the single market.
"South-eastern Europe could be quite affected in case of a hard Brexit," EBRD President Suma Chakrabarti said in an interview in the bank's London headquarters before a three-day board meeting that starts Tuesday in Cyprus. "In that case, the EBRD will have to act counter-cyclically and do more."

As two years of Brexit talks draw near, eastern European governments are focusing on the fate of the millions of citizens they have living in Britain, with U.K. officials set to play hardball over the issue. But their economies also face risks from declines in financing, trade and cohesion funds, according to the EBRD, which was set up to help facilitate the post-Soviet transition but now covers a region stretching from Estonia to Egypt and Mongolia to Morocco.
Eastern Europe has been the main beneficiary of the EU's 2014-2020 budget, which exceeds 60 billion euros ($65 billion) and is helping countries such as Poland, Hungary, Romania and Bulgaria catch up with their wealthier western neighbors. The region grew at one of the bloc's fastest growth rates in 2016, led by Romania.
While the advance is set to slow this year, according to the International Monetary Fund, expansion will probably continue to outpace other EU members. The EBRD, which warns a Brexit-induced drop in investments could shave between one and two percentage points off regional growth, will publish revised economic forecasts on May 10.
'Additional Investments'
Faced with the prospect of the U.K.'s departure curbing financing, Hungary is "rushing" to access billions of euros of EU cohesion funds, according to Nandor Csepreghy, a deputy minister in Prime Minister Viktor Orban's office. Lithuania is already starting to look elsewhere.
"We're doing proprietary work to attract additional investments from institutional investors in order to replace some portion of the EU investments in the future," the Baltic nation's Finance Minister Vilius Sapoka told Bloomberg.
According to Chakrabarti, they could include the EBRD, which works in the region alongside other lenders including the European Investment Bank and the International Finance Cooperation. The EBRD has invested 29 billion euros in central and eastern EU members since it was founded in 1991.
"We have enough capital to boost funding to these countries -- we're not short of capital," Chakrabarti said. "Romania, Bulgaria, Greece, these economies could be quite affected if it's a hard Brexit, and the EBRD will have to find more projects to do in that situation."
— With assistance by Dalius Simenas, and Zoltan Simon
Before it's here, it's on the Bloomberg Terminal.
LEARN MORE