business
Top Quebec Pension Fund Urges Bombardier to Dump Chairman of Family-Run Company
By and
Canadian pension-fund manager assails 'lapse of governance'

Caisse, Solidarity Fund also vote against company's pay plan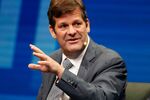 Bombardier Inc.'s biggest outside shareholder and a second major investor withdrew support for Chairman Pierre Beaudoin, the last executive link to the planemaker's founding family, after he backed a compensation plan that sparked a public furor.
The manufacturer's board should be led "by a fully independent director," Caisse de Depot et Placement du Quebec said in a letter to Bombardier on Monday. Solidarity Fund QFL, which is backed by a labor union, also declined to back Beaudoin, a member of the family that controls Bombardier.
Both shareholders said they voted against the compensation plan -- a proposal that fueled outrage after Bombardier increased executive pay almost 50 percent despite receiving taxpayer aid and announcing plans to cut more than 14,000 jobs. The Montreal-based company later reduced Beaudoin's pay and delayed some remuneration for leaders including Chief Executive Officer Alain Bellemare.
"The board's recent decisions regarding executive compensation fall short of the necessary standard of stewardship," Caisse Executive Vice President Kim Thomassin said in the letter. "Given this lapse of governance, we have voted against the advisory resolution on compensation."
Public Spotlight
While Beaudoin's family holds a controlling stake that makes the plan likely to pass anyway, the letter put the company back in the spotlight weeks after the public outcry that forced Bombardier to downsize the pay package.
The Caisse, Canada's second-largest pension-fund manager, held 47.6 million of Bombardier's widely traded Class B shares, or a 2.5 percent stake, at the end of last year, according to data compiled by Bloomberg. Solidarity Fund, which was created by the Quebec Federation of Labour and oversees C$12 billion ($8.8 billion), has about 21 million shares, said spokesman Patrick McQuilken.
The shares fell 1 percent to C$2.06 at the close in Toronto.
Bombardier's board said in an emailed statement Monday that the May 11 annual meeting will be "an opportunity to discuss these important questions."
Conflicting Advice
The Caisse's letter followed conflicting advice from proxy advisory firms, putting the fund manager in the camp of Glass Lewis & Co. on the compensation plan. Institutional Shareholder Services Inc. recommended that investors cast "a contentious vote in favor."
The Caisse, while expressing "full support and confidence'' in Bellemare and his team as they attempt to turn the company around, said better oversight is required to make the plan successful. The decision not to support Beaudoin "has nothing to do with the individual. It's strictly a governance matter," Maxime Chagnon, a spokesman for the fund manager, said in a subsequent email.
The Caisse paid $1.5 billion in 2016 to acquire a 30 percent stake in Bombardier's rail unit.
Quebec last year invested $1 billion in Bombardier's C Series jetliner program, which entered service more than two years late and billions of dollars over budget.
Earlier this year, Canada's federal government agreed to provide C$372.5 million in support for the C Series and the Global 7000 business jet program after more than a year of discussions. The federal assistance gave Bombardier an additional cushion, while falling far short of the $1 billion in aid the company had initially sought.
Winning more orders for the C Series, Bombardier's marquee jetliner, is a crucial part of Bellemare's turnaround plans. Under his watch, the company landed a critical lifeline for the C Series with a $5.6 billion order from Delta Air Lines Inc. last year. The U.S. airline's CEO, Ed Bastian, cited Quebec's support as a key reason behind his decision to buy at least 75 of the jets. Bombardier also won a major order from Air Canada.
Before it's here, it's on the Bloomberg Terminal.
LEARN MORE