As WeWork Grew, Some Employees Say They Were Mistreated
Company executives say they've since raised pay and clarified job roles.
by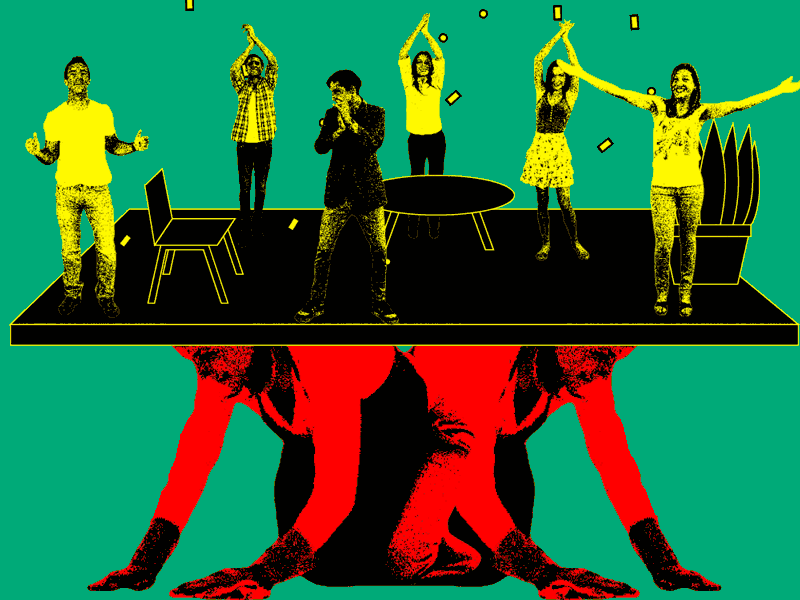 WeWork Cos., the world's largest co-working company, rents out office space in 140 locations around the world, which means its daily needs are basic but essential: working internet, clean conference rooms and fresh coffee.
To keep its existing customers happy and to enlist new ones, WeWork hires a small army of "community staff," and it's these people who run the WeWork spaces every day. These 1,200 workers make up more than half of the company's staff. But as WeWork shot from 350 to 2,200 employees in two years, some community staff said they were overworked, underpaid and misclassified as ineligible for overtime.
Managing a rapidly growing staff proved to be a challenge for WeWork. The company has been beset by a growing number of allegations over unfair pay, miscategorization of workers and other forms of employee mistreatment. Some of these have resulted in legal disputes, and now the company is under scrutiny by state and federal authorities.
One former community staff worker sued the company a year ago claiming she was owed overtime pay. Last year, WeWork settled a case in arbitration with a second ex-community staffer, according to a person who had been briefed on the matter but was not authorized to speak about it. A third said she's planning to file one soon. For some of these workers, the glamour of a job at WeWork, a company now valued at $18 billion, at first obscured the question of whether they were being unfairly denied pay. The company's arbitration policies are being examined by the National Labor Relations Board, and its non-compete agreements are being investigated by the New York attorney general. Last fall, as part of a settlement in a separate NLRB case, the company rewrote its employee handbook to remove some overly broad passages.
WeWork executives said they've spent the last year trying to make workers happier by raising pay, clarifying job roles and offering nontraditional rewards for employees like trips to Australia. They acknowledged that rapid expansion left community staff working hard without much guidance or proper training but said the problems are fixed. "Those issues are very much behind us at this point, and they've been behind us for close to a year," said WeWork President Artie Minson.
Interviews with more than a dozen former WeWork employees, seven of whom worked there within the last year, echo the allegations and suggest that some problems still linger. Former workers describe a chaotic and disorganized company, where young employees are drawn in with equity in a high-flying startup and the promise of a place where you can "Do What You Love," a company motto. But they were expected to work long hours and be ready to volunteer for more and told to "Hustle Harder," another slogan often found on WeWork office walls. Employees are still bound by mandatory arbitration and non-compete agreements. Four current WeWork employees, who the company made available to Bloomberg, said that working on community staff is challenging but fulfilling. Many former workers spoke only on condition of anonymity out of fear of retaliation from the company.

"I'm young; I'm a millennial; and we don't really know our rights," said Rachel Wynn, a 27-year-old former associate community manager in Washington, D.C., who left in 2015 and is planning to pursue a lost-wages case against WeWork. She and other former community staffers said they gave office tours and hosted events at the space. But they also spent much of their time brewing coffee, arranging catering and fixing printers. Sometimes the job involved catching mice and dealing with office party detritus, including used condoms in the meditation room and vomit in the phone booths.
The startup world's approach to work—strenuous hours and unwavering devotion—can lead to wild success for some employees but can weigh heavily on others, especially low-ranking, non-technical employees. Human resource departments and strict compliance with labor laws sometimes come later than they should in a startup's lifetime, and tech companies are facing criticism for hard-driving workplace cultures. "There's an enormous amount of misclassification at startups," said Cliff Palefsky, an employment lawyer in San Francisco. "Many of the people who are working very long hours should be getting overtime. They either don't know or they don't want to rock the boat."
Wynn argued that WeWork misclassified her and her fellow community staff as managers in order to avoid paying them overtime. She said they weren't making many independent decisions in their jobs—which can be a federal requirement for someone to be denied overtime—and instead, were mostly doing menial tasks. She said she should have been paid extra for the nights she spent in mandatory team meetings and hosting networking events at the office. WeWork said in a statement that Wynn and Tara Zoumer, the former worker who sued the company last year, "exercised substantial independence and autonomy in their roles. They both worked on small teams running a WeWork location."
WeWork has had a difficult 12 months. Last summer, it cut 7 percent of staff and slashed its 2016 profit forecast by 78 percent, citing problems like delayed openings and higher-than-expected construction costs. The complaints from community highlight problems that don't show up in financial documents and in many cases, haven't been previously reported.
"Because I had manager in my title, I thought that part of my job was staying late," Wynn said. "I didn't know it shouldn't be that way."
At each WeWork office, the daily needs of the building are assigned to employees with familiar roles and novel titles. The building receptionists are front desk associates. Community managers run the building—duties such as giving tours, hosting events, answering support tickets—and associate community managers assist them. Employees whose main duties are cleaning bathrooms, kitchens and conference rooms are called community service associates.
U.S. employees who work more than 40 hours a week are required to be paid time and a half for any hours beyond that, with some exceptions, including one for workers whose primary duty is making independent and substantial decisions about the business. That's the exemption that WeWork used for years to avoid paying overtime to front desk associates, associate community managers and community managers.
Last year, the U.S. Labor Department passed a rule that would ensure lower-paid full-time workers—making $47,476 a year or less—would automatically be eligible for overtime. The rule was supposed to go into effect Dec. 1 but was blocked by a judge. In November, WeWork raised salaries for community staff as part of a company-wide pay reassessment. It bumped associate community managers' salaries to around $50,000 or more, which keeps them from being guaranteed overtime. According to WeWork, the company had started clarifying job roles and discussing pay changes in May, at the same time it made front desk associates eligible for limited overtime.
Some of these "managers" at WeWork alleged that their responsibilities didn't match their titles. Tara Zoumer, a 30-year-old former associate community manager in Berkeley, California, who is suing the company over lost overtime wages and wrongful termination, said she wasn't managing anyone but spent her time doing "a million tiny jobs" like fluffing pillows and setting up catering. She left in November 2015 and sued a few months later. Wynn put it another way: "It's not like I was managing anyone besides making sure there was enough beer and soymilk ordered." Gabriella Casimir, a current associate community manager in New York City, said she oversees the community service associates at her office location.
Long hours and late nights are common at WeWork, and the community staff said they had particularly intense demands on their time. All staffers are expected to attend weekly meetings, called Thank God It's Monday, that could last for several hours after their shifts ended at 6 p.m. Community workers were also expected to stay late to help members host evening events at the office and attend tech networking events to find sales leads. Twelve-hour workdays were commonplace, said three former community staff. Staffers said they were not paid extra for the evening hours, though front desk associates now get overtime pay since their change in status last year.
Management at times pushed employees to work for free. In an email obtained by Bloomberg from January 2016, community staff in New York City were asked to volunteer for four-hour weekend shifts at the newly opened WeLive, a WeWork-run apartment building. The company said volunteers filled the list in 25 minutes. Michael Fitzsimmons, a 26-year-old former associate community manager who now is head of brand marketing at WeWork, said he felt ownership over his work-life balance. "If I ever worked on the weekend, I felt like it was my choice," he said.
Workers who don't share Fitzsimmons's view have limited options for legal action. In late 2015, the company made all its current employees sign a new employee agreement that included mandatory arbitration, meaning they'd forfeit their right to sue the company in court. WeWork's use of mandatory arbitration is part of an ongoing case with the National Labor Relations Board that is pending a decision from the board. WeWork also made all employees—including those whose primary duty is cleaning—sign non-compete clauses, except for workers in California, where those agreements are illegal. The New York attorney general's office opened an investigation late last year into WeWork's non-compete clauses.
Jen Berrent, WeWork's chief legal officer and chief culture officer, said the company thinks it's appropriate for everyone to sign non-compete agreements. "We believe our secret sauce is in our staff and in our employees and especially on the community front," she said. "Our people are our soul."

WeWork draws in job candidates with a tantalizing pitch that blurs work and life. Former community staff said their jobs included post-work rounds of shots and two weekend retreats a year where employees were expected to attend but were not paid or given time off in exchange. WeWork's annual Summer Camp, held by a lake in the Adirondack mountains last August, featured Ice Cube and canoes full of beer. It includes WeWork members. Its yearly winter employee summit was held in Los Angeles in January and included a concert by the Chainsmokers. The median age at the company is 28; the median age among community staff is 26.
Some new employees found the experience intoxicating. "It was like something out of a movie. It doesn't quite feel real that it's a company that is putting on this event," Zoumer said. "A huge stage, top headliners, crazy lights. It felt like a rave."
It was a sharp contrast to working at a WeWork office every day. Buildings have a ratio of one community worker for about 90 members, the company said. The community staff are also responsible for finding new members. Former staffers said the pressure to meet sales targets was intense. "The goal was to get butts in seats as fast as possible," said Wynn. WeWork said it has hired 60 dedicated salespeople in the last year to help relieve the load. Still, working on community staff "is a challenging job," said Minson, WeWork's president. "Some people thrive in that environment. Those people tend to do really well at WeWork."
As WeWork grew, its internal operations sometimes failed to keep up. When there were problems with permits—a Miami Beach, Florida, location failed inspection on the morning it was supposed to open in 2015, and authorities targeted three Washington, D.C., locations in 2014 for not having proper alcohol licenses—community staff were the ones who scrambled to set up a temporary office across the street and reassure irked members that free beer would return soon. (The licenses were later secured.)
WeWork skimped on building security for years, former employees said. Staff only worked weekdays, but members had access to buildings 24-7 and held parties on nights and weekends. On Monday mornings, community staff often returned to find common areas littered with bottles and other party leftovers, former employees said. Two former associate community managers in New York City and Washington said homeless people were found wandering or sleeping in WeWork buildings. WeWork said many of its offices are in buildings with landlord-provided security, and it's working to improve security response within the company.
WeWork executives said they have been working to improve the job satisfaction of community workers. In August, the company created a "culture committee," where worker representatives can give feedback. WeWork has started giving "agile incentives" like travel and time off instead of cash bonuses. Berrent, the chief culture officer, said she sent one of her employees to the music festival Coachella for her bonus. The company is also exploring offering employees stock options that vest over seven or 10 years instead of the current five-year plan to encourage employees to stay longer. "We want 28-year-old employees to be 38-year-olds here," Berrent said.
Former employees said they stayed at the company as long as they did because they felt an emotional bond to WeWork. Employees were often reminded that they were part owners of the company. When WeWork started getting bad reviews on Glassdoor, Chris Hill, the chief community officer, asked community employees to submit positive reviews, according to three former employees. WeWork declined to comment.
"At all the meetings, people were always reminded of how lucky they are to be there, how we're all so lucky to be part of this experience," Zoumer said. "The company lingo was said so often—that we all 'hustle harder.'"
Before it's here, it's on the Bloomberg Terminal.
LEARN MORE