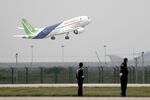 The evening briefing will soon be available in your inbox every day. To be among the first to get it, sign up here.

China's first modern passenger jet has completed its maiden test flight, giving wings to President Xi Jinping's ambition of turning the country into an advanced modern economy. The flight of the Comac C919 marks a new era in the aviation business, with Airbus and Boeing both likely to lose a chunk of their China business to the newcomer. But it's not all doom and gloom for the industry, as some 16 western companies are supplying parts for the plane. Single-aisle aircraft like the Comac 919 are forecast to generate about $535 billion of passenger jet sales in China over the next two decades. —Alex Millson
For a vivid illustration of why demographics matter so much for economic growth, just look at what's happening in Asia. India and the Philippines are likely to post the continent's fastest growth rates in coming years as their working-age populations continue to swell. On the flipside, as their populations age, countries like China, Hong Kong and Japan have seen workforces contract since 2015.
Warren Buffett gives investors something to talk about. The billionaire revealed that he sold about a third of Berkshire's investment in computer-services giant IBM. Before the sale Berkshire held about 81 million shares. "I don't value IBM the same way that I did six years ago when I started buying," he said.
Fraud, Threats and Ferrari Fights. Some of the rarest cars in the world are at the heart of a London lawsuit embroiling an associate of one of China's wealthiest men. At stake in the case is ownership of two classic cars that could be worth as much as $87 million. Here's the lowdown.
Australia's Prime Minister sounds like Donald Trump. If you listen to Malcolm Turnbull and get a faint sense of deja vu ahead of Australia's budget next week, that could be because you've heard his pitch before. The PM is betting he can win back disaffected voters by putting "Australia first".
Japan's hard-up priests are making cash through property development. Shinto elders struggling to make ends meet are turning to real estate as Japan experiences a housing boom. Developers are pitching hard-to-refuse offers to priests as the shrines often occupy the best spaces in Japan's jammed cities.
These are the cheapest world cities for date night. You'll get the most bang for your buck in Manila and Jakarta, while heading further afield — all the way to Zurich in fact — will see your wallet emptied in no time. Here are Deutsche Bank's calculations on the cost of dating. 
That's not how you drink tequila - this is. Instead of a slice of lime, a pinch of salt and throwing a shot down your neck, how about getting classy and simply sipping? We asked experts for their favorite brands and bottles of tequila and mezcal.

Before it's here, it's on the Bloomberg Terminal.
LEARN MORE