Photographer: Brett Gundlock/Bloomberg
U.K. Targets Diesel Drivers to Aid Smog-Choked London
By
Government to consider limited scrapping plan for worst cars

U.K. may expand number of Clean Air Zones to curb pollution
The U.K. government said it will consider offering compensation to drivers scrapping the most polluting diesel vehicles in its latest effort to tackle the country's air quality crisis.
A "targeted scrappage scheme" forms part of the draft air quality plan published on Friday that aims to curb traffic pollution without penalizing drivers. Any program must be limited in scope, offer good value for taxpayers' money, and be delivered by local authorities, the government said in a paper as it started a six-week consultation.
Air pollution across the U.K. is linked to around 40,000 early deaths each year, and is draining 20 billion pounds ($24 billion) a year from the economy, according to the Royal College of Physicians. London breached its annual air quality limits just five days into 2017, and the proposals are the latest attempt to satisfy judges that the government is doing all it can to meet pollution targets as soon as possible.

"Improving air quality is a key priority as we support businesses in building a stronger and cleaner economy," said Andrea Leadsom, Secretary of State for Environment, Food and Rural Affairs, in an emailed statement. "Our plan today sets out how we will do just that – including presenting options for targeted diesel scrappage schemes."
The department said it is looking at increasing the number of Clean Air Zones, where local authorities will need to reduce nitrogen dioxide pollution. However, it said councils should only introduce charging for the most polluting cars if there are no cheaper alternatives.
Around 40 local authorities in England will breach pollution limits "for some years ahead" unless action is taken, Defra said. The final number of Clean Air Zones legally required to tackle pollution will be confirmed in July, it said.
A High Court judge said in November that the government's previous plan to curb harmful nitrogen dioxide was too weak, ordering ministers to publish a tougher plan by April 24. After missing that deadline, the government last week lost a bid to delay publication until after the June 8 general election. Polls indicate the ruling Conservatives will be re-elected next month.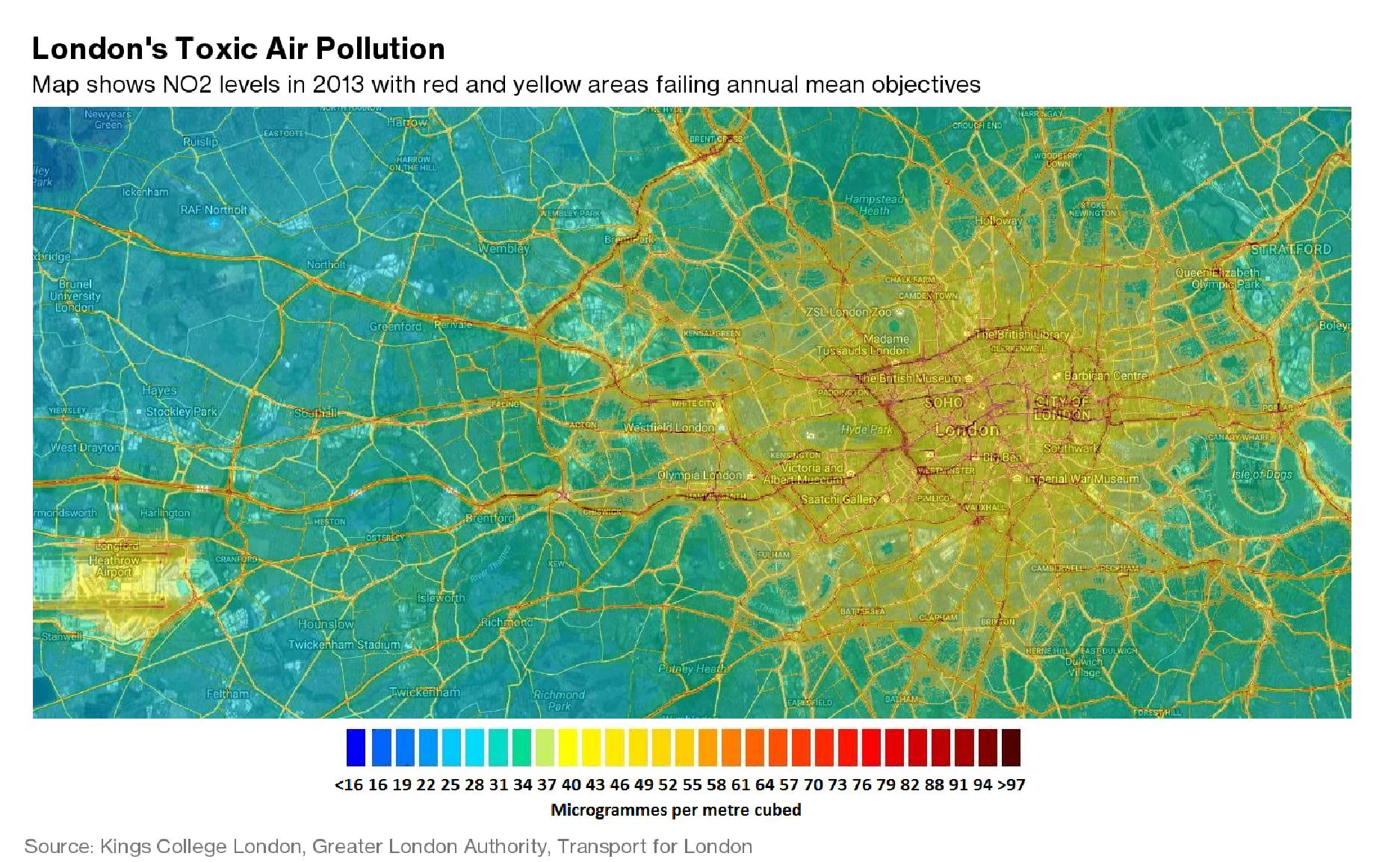 The U.K. has the largest fleet of diesel vehicles in Europe and ministers want to avoid punishing drivers who opted for diesel after being told it was better for the environment.
Under a previous Labour government, drivers were encouraged to switch from gasoline to diesel as it has more range and emits less carbon dioxide. But a loophole in vehicle regulations meant diesel cars actually increased nitrogen oxide emissions, which is linked to a range of respiratory diseases, including asthma.
Feeble Plan
The Society of Motor Manufacturers and Traders welcomed the proposals, while climate activists criticized them as insufficient.
"This feeble plan won't go anywhere near far enough in tackling this public health emergency," said Caroline Lucas, leader of the Green Party. The party, which had one lawmaker in the last parliament, wants car companies to pay for new measures to tackle pollution, such as new investment in public transport.
In London, which has some of the worst air pollution in Europe, asthma-sufferer Mayor Sadiq Khan has been pushing for a nationwide diesel scrappage scheme that he says would cost as much as 515 million pounds ($632 million) over two years.
ClientEarth, an environmental group which has taken the government to court twice over its air pollution plans, said the proposal is weaker than it hoped for and that government is "passing the buck" to local authorities to deal with the challenge.
"We fail to see how the non-charging clean air zones, proposed by the government, will be effective if they don't persuade motorists to stay out of those areas," James Thornton, chief executive of ClientEarth, in an email. 
"Air pollution has blighted the lives of millions of people in this country for years," he said. "With the new plans it was ordered to produce as a result of our court victory, this government has the opportunity to create a clean air legacy that will benefit everyone now and long into the future."
Before it's here, it's on the Bloomberg Terminal.
LEARN MORE