Traders Vote Macron as Le Pen Vows to Wipe the Smiles Off Their Faces
By
Most investors say they're betting on, hoping for Macron win

Reaction could be severe if right-winger Le Pen surprises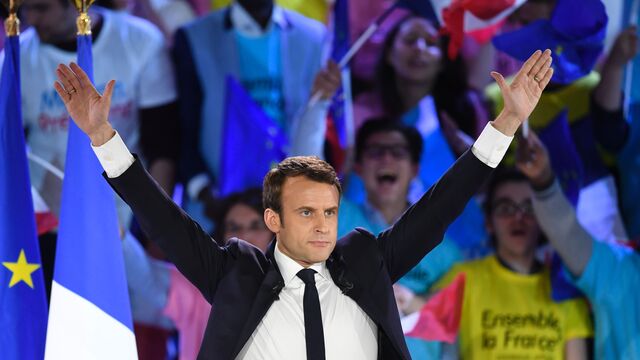 With Marine Le Pen's "smirking banker" insults failing to rattle her adversary in the final debate of the French presidential election, markets are looking decidedly cheerful.
By one important measure of risk sentiment, they're the least flustered they've been about the possibility of a National Front victory all year. But this positioning means the smile could vanish from the face of more than just one-time banker Emmanuel Macron if Le Pen pulls off an upset in Sunday's vote. 

The euro reached its highest level of the year against the dollar after the debate, and the premium investors demand to hold French government OATs over German bunds plummeted to a 2017 low.
Deutsche Bank AG strategist Sebastien Galy says the unwind of hedges against a Le Pen victory reflects "misplaced overconfidence," with analysts at UBS Group AG predicting a massive shock to U.S. Treasuries if she manages to pull it off.
Granted, independent Macron is likely to win. Sixty-three percent of those surveyed after Wednesday's vituperative exchange said that the centrist candidate put in a stronger performance. And the narrowing in the OAT-bund spread reflects the widening of another key metric: Macron's lead in the polls. Not a single major survey of voter intention shows him behind.
'Hell Breaks Loose'
All the same, "it's not a given," according to Andreas Utermann, the chief executive officer at Allianz Global Investors, speaking of victory for the frontrunner. "We would like to get through Sunday because let's face it: even though it's not priced in the markets, if it's not Macron but Le Pen all hell will break loose," Utermann said in a May 3 Bloomberg TV interview.
The character of the resulting maelstrom may prove more severe than options pricing suggests, said Deutsche Bank's Galy in a Wednesday interview. The euro could weaken by 3 to 6 percent "as very few are positioned for this," he said. But even a narrow victory for Macron could sideline foreign investors until the next election if the threat of populism lingers, according to the strategist.
In the wake of the debate, the euro surged to a November high of 1.0987 against the dollar, and the cost of hedging against volatility in the Euro Stoxx 50 Index sank a record 35 percent. With investors loading up on bets for Macron, there could be a limited scope for a relief rally following a victory by the former economy minister.

Over the longer term, the effects on euro-zone markets may be harder to gauge. With little precedent for Le Pen's signature proposal of leaving the euro, "we might end up in an economic paralysis for a period of time," according to Peter Trent, chief executive of Macquarie Atlas Roads in Sydney.
Stars Align
On Thursday, Le Pen's camp seemed to be trying to snatch victory from the jaws of accepted usage, when her niece and fellow National Front politician Marion Marechal-Le Pen said that scoring 40 percent in the two-way runoff "would be an enormous victory."
Sure enough, Le Pen can only win if many stars align: participation needs to be very low, moderates need to stay home, and the voting bloc of Communist-backed Jean-Luc Melenchon -- who went out in the first round -- needs to split evenly between Le Pen and Macron, according to Bloomberg Intelligence's Maxime Sbaihi.
For more on how voter abstentions could nudge Le Pen to victory, click here.
Sbaihi warns against "selling the bear's pelt before it's killed" -- to use the French expression, even though Macron's 23-point lead in the Bloomberg composite of surveys of second-round voting intention stands well beyond the margin of error.
"It's clear after the debate that a Macron win is perceived as the most market-friendly outcome, and has become more likely," Vincent Juvyns, global market strategist at JPMorgan Asset Management in Luxembourg, said in an interview ahead of the vote. While Macron looks the likely victor, "we should remain vigilant," he cautioned.
After the shock of the Brexit vote and the U.S. election, the precedents for a populist surprise are well rehearsed. Exhaustively well rehearsed. Yet the more salient parallel with Donald Trump may end up being the difficulty the president's had in implementing his policy agenda during his first days in office. Even if Macron stages a comfortable win, June's parliamentary elections will soon come into focus, according to Thomas Nilsson, strategist at SEB.
"A French president is strong only if he or she has majo­rity support in parliament, so political maneuvering and deal-making after that election will be vital," he wrote.
For more on how the presidential race has played out on social media, check out the Decrypted podcast:
— With assistance by V Ramakrishnan, David Goodman, Sid Verma, Benjamin Harvey, and Blaise Robinson
Quotes from this Article
Before it's here, it's on the Bloomberg Terminal.
LEARN MORE