Somalis Report Helicopter Raid Near Where U.S. Soldier Killed
By
Attack occurred near town where U.S. soldier died on Thursday

U.S. Africa Command confirms soldier's death west of capital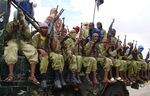 Helicopters attacked a base of al-Qaeda-linked militants in Somalia west of the capital, Mogadishu, close to where a U.S. soldier was killed on Thursday.
Foreign and Somali forces struck the base near the village of Awdhegle, Hassan Yare, a police officer in the area, said Friday by phone, without identifying the nationality of the international troops. The fighting occurred about 12 kilometers (7.5 miles) from the town of Barii, where the U.S. Africa Command said the American soldier died while on an "advise and assist mission" with Somali government forces.
"We were terrified by the exchange of gunfire and explosions between the warring sides," Macow Ali, a resident of Awdhegle, said by phone.
President Donald Trump has given U.S. forces greater leeway to attack militants of the al-Shabaab group, General Thomas Waldhauser, who heads the U.S. Africa Command, told reporters last month at Camp Lemonnier, a U.S. military base in neighboring Djibouti.
Al-Shabaab has waged an insurgency in Somalia since 2006 in a bid to impose its version of Islamic law. While its fighters were driven out of Mogadishu, it continues to stage deadly gun and bomb attacks. Its members have carried out attacks in Kenya, Uganda and Djibouti, killing hundreds of people.
"U.S. forces are assisting partner forces to counter al-Shabaab in Somalia to degrade the al-Qaeda affiliate's ability to recruit, train and plot external terror attacks throughout the region and in America," the U.S. Africa Command said in its statement on Friday.
Before it's here, it's on the Bloomberg Terminal.
LEARN MORE