S&P 500 Limps to Record While ETF Investors Turn Sour on Stocks
by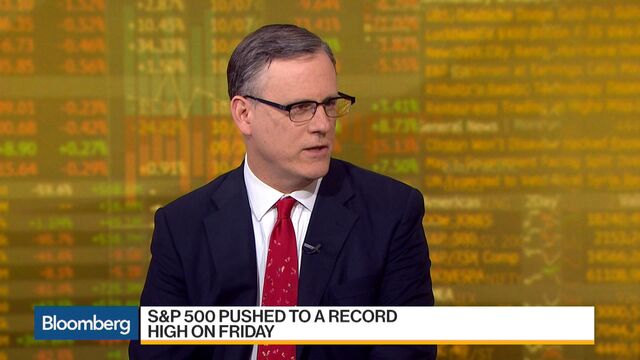 To say the S&P 500 Index's slog to a record this week failed to ignite animal spirits on Wall Street would be an understatement.
Appetite for U.S. equities evaporated even as prices inched higher, with price gains culminating in a Friday afternoon advance that left the benchmark 3 points above its March 1 close. Unimpressed, investors yanked more money from the biggest exchange-traded fund tracking the measure than any time since the presidential election.
From Monday through Friday, the S&P 500 rose 0.6 percent to 2,399.29, led by gains of more than 1 percent in technology and financial shares. The index is up 7.2 percent in 2017 and 12 percent since Election Day. The Nasdaq Composite Index climbed 0.9 percent on the week to 6,100.76, while the Dow Jones Industrial Average gained 66.43 points to 21,006.94.

"People have shifted so quickly into bonds, and they're probably doing it by selling equities," Alex Bellefleur, head of global macro research and strategy at Pavilion Global Markets in Montreal, said by phone. "Maybe people are looking at protection, given stocks are at all-time highs."
Apple Inc. drove the rally in all three indexes, jumping 3.7 percent for its biggest weekly increase since February even as quarterly revenue missed estimates. Limiting the advance were U.S. auto sales that trailed forecasts and slumping metal prices.
Despite the gains, traders withdrew $6.4 billion from the SPDR S&P 500 ETF through Thursday, putting it on pace for the biggest weekly outflow since May 2016 as cash flowed from stocks to fixed income. During the same period, bond funds tracked by EPFR Global took in $9.7 billion, according to a Bank of America Merrill Lynch note citing the firm's data.
Nine of 11 industry groups advanced for the week, with energy stocks trailing as oil prices slid more than 6% and CenturyLink led telecommunications shares down with an 8.1% drop
Advanced Micro Devices was the worst performer in the S&P 500 Index, tumbling 23% for the week; the chipmaker's plunge came after its quarterly earnings report disappointed investors and further deflated their with their second-quarter sales forecast
Ford and GM each slid more than 2.6% for the week; the drop came as data on Tuesday showed sales at all six of the biggest automakers in the U.S. dropped again in April
Before it's here, it's on the Bloomberg Terminal.
LEARN MORE