markets
Pricey Stocks Push Bearish Investor to Emerging-Market Debt
By
Aberdeen AM trust cuts proportion of stocks in its portfolio

Some dividends looks 'extremely precarious,' Bruce Stout says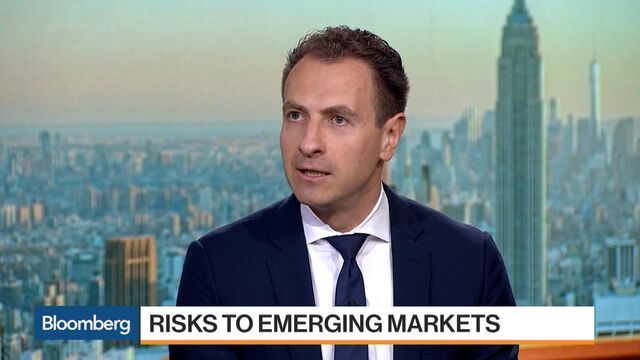 Almost a decade after the start of the worst global financial crisis since the Great Depression, Aberdeen Asset Management's Bruce Stout is as down on stocks as ever.
"Equity markets are so expensive, and some of the dividends attached to companies at the moment look extremely precarious," Stout said in an interview at his Edinburgh office. He has cut the proportion of stocks in the 1.6 billion-pound ($2.1 billion) Murray International Trust he manages to the lowest in about 10 years.
From his vantage point on the main shopping thoroughfare in the Scottish capital, Stout sees a disconnect between the optimism implied by equities trading at record highs and the weak outlook for growth in Western economies. That prompted him to invest in such things as emerging-market debt.

The Murray International Trust was founded early in the 20th century for wealthy Scots to invest in railroad bonds in the Americas and Stout, 58, has managed it since 2004. He has often been a skeptic, selling out of banks before the credit crunch when others were buying them and warning the world was borrowing too much.
The fund emerged as one of the best performers in the crisis years. It gained about 50 percent last year, beating most of its competitors, according to data compiled by Bloomberg.
Policy Failure?
Stout remains cautious. He reduced the proportion of Murray's portfolio in stocks to 82 percent by the end of March, according to the fund's latest fact sheet. The rest comprises bonds and cash.
Efforts by central banks to boost economies through negative interest rates and asset purchases have been an "abject failure," he said in the interview. Instead, they've resulted in higher consumer debt and lifted equity values to unrealistic levels, he said. His priority now is to preserve capital, rather than buying riskier, high-yield assets.
When Stout's trust has bought stocks, it has focused on companies with individual strengths that can still thrive in a sluggish economic environment. Recent investments include stakes in Auckland Airport in New Zealand; German chemicals company Bayer AG; satellite operator Inmarsat Plc; and Hong Kong rail company MTR Corp.
The fund's biggest holding is in Mexico's airport operator, Grupo Aeroportuario del Sureste SAB. The company has benefited from a slump in the peso in the aftermath of Donald Trump's presidential victory, which is boosting tourism. Its shares have climbed 20 percent since the election.
"If the consumer is heavily indebted, with genuinely grave concerns about employment prospects and declining real income, there's just no firepower left," said Stout.
Before it's here, it's on the Bloomberg Terminal.
LEARN MORE