business
One of Venezuela's Biggest Investors Would Welcome Regime Change
By
Money manager Conelius says new government would boost bonds

Venezuela one of the top overweights for $6.5 billion fund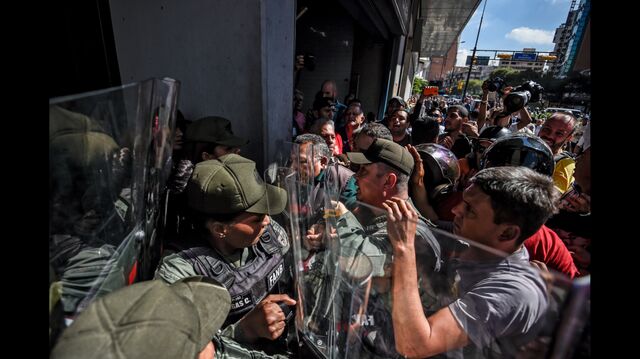 One of the biggest holders of Venezuelan debt says the country -- and its investors -- would be better off with a new government.
"Like most Venezuelans, we would welcome, and ultimately expect, a change in regime," Mike Conelius, who manages the $6.5 billion T. Rowe Price Emerging Markets Bond Fund, wrote in an email. The fund had 6.6 percent of its assets in Venezuelan notes at the end of the first quarter, one of its biggest overweight positions and about double what the benchmark index calls for.

The idea that President Nicolas Maduro will eventually depart is a key aspect of Conelius's thesis for buying Venezuelan bonds, which are considered among the world's riskiest and pay outsize yields as a result. Conelius says that a new government will send the debt higher as investors consider the potential for a country that has the largest oil reserves on Earth, but is currently besieged by violent protests amid shortages of food and other basic goods.
"The cathartic moment of regime change will be quickly re-priced in the market," Conelius wrote. "So as unpalatable as holding Venezuela risk may seem, this is precisely the type of time that long-term investors typically want to accumulate exposure."
For more politics coverage, subscribe to the Bloomberg Politics Balance of Power newsletter
The fund, which has beaten 88 percent of its peers in the past year, credited its outperformance last year to the Venezuelan stake, with some bonds gaining more than 50 percent as the country defied default odds in part by cutting imports.
The South American nation has been riven by protests for weeks, with clashes between government allies and opponents seeking Maduro's ouster resulting in at least 30 deaths. The president has called for a popular assembly to write a new constitution, which critics see as a fresh attempt to consolidate control.
Conelius said that investors and capital that pulled out of the country in the past decades will want to rush back in once a new government is in place.
"When the change does come, today's valuations will be very difficult, if not impossible, to find," he wrote.
— With assistance by Sebastian Boyd
Before it's here, it's on the Bloomberg Terminal.
LEARN MORE