North Korea Accuses U.S. of Plot to Assassinate Kim Jong Un
By and
Claim follows President Trump's offer to meet leader

Isolated country has record of unverified plot allegations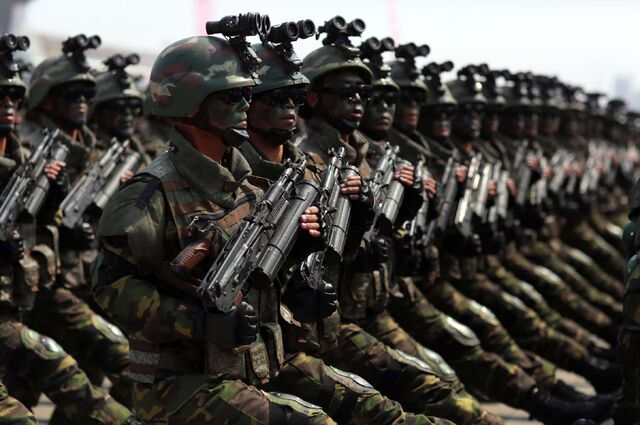 North Korea accused the U.S. and South Korea of conspiring to assassinate leader Kim Jong Un amid heightened tensions over Pyongyang's nuclear weapons program.
The regime's official Korean Central News Agency alleged that the U.S. Central Intelligence Agency and South Korea's intelligence services bribed a North Korean citizen to "hurt the supreme leadership" using a biochemical substance. KCNA has a track record of allegations of plots to assassinate North Korea's leadership, none of which have been verified.
The CIA and the South Korean intelligence service, "hotbed of evils in the world, hatched a vicious plot to hurt the supreme leadership of the DPRK," the news agency said, using the initials for North Korea's formal name. The report cited the Ministry of State Security.
For more politics coverage, subscribe to the Bloomberg Politics Balance of Power newsletter
The claims come as U.S. President Donald Trump increases pressure on Kim's regime to give up its nuclear weapons program, warning that military action was among the options he might consider.
Still, Trump also said this week that he would be prepared to meet with Kim if the circumstances were right, and U.S. officials have said they're not trying to oust or eliminate the North Korean leader.
"Our goal is not regime change," Secretary of State Rex Tillerson said in a speech at the United Nations last week. "Nor do we desire to threaten the North Korean people or destabilize the Asia Pacific region."
South Korea's defense ministry said it didn't have an immediate comment on the North Korean report.
Before it's here, it's on the Bloomberg Terminal.
LEARN MORE