Merkel's Party Rebound Faces First Test in German State Vote
By and
As France votes, Germans look to their northernmost state

Schleswig-Holstein is stepping stone to national vote in fall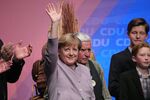 In the shadow of France's presidential vote, German Chancellor Angela Merkel is facing a test of her party's renewed strength in a state election this weekend as she builds up her campaign for a fourth term in September.
Polls suggest Merkel's Christian Democratic Union has momentum and will win the most votes on Sunday in Schleswig-Holstein as the Social Democrats, Germany's second-biggest party, recede from an early-2017 surge. With a population of just 2.8 million wedged between the North and Baltic seas, the northern state is a staging ground for North Rhine-Westphalia, the country's most populous region, which holds elections a week later in the biggest test before the national vote.
Merkel and Martin Schulz, her SPD challenger whose nomination sparked the party's revival in the polls, are turning the two state contests into proxy campaigns. Merkel, in power for almost 12 years and seeking another four, is running in part on her international standing as Germany prepares to host a Group of 20 summit in July. She's campaigning in Schleswig-Holstein on Friday, days after a visit to the Persian Gulf and her first trip to Russia in two years for talks with President Vladimir Putin.
"In both states, the SPD is already in power, so these elections are theirs to lose," Manfred Guellner, head of the Berlin-based pollsters Forsa, said in an interview. Even if the Social Democrats pull out a narrow victory in Schleswig-Holstein, "people will say the so-called Schulz effect is over," he said.
SPD Pared
The back-to-back state votes could sway the national campaign's narrative before Germans head toward the summer's traditional political lull. Merkel's CDU has pulled ahead in Schleswig-Holstein in the last two weeks, a warning sign for the SPD after her party won an unexpectedly clear victory in Saarland state in March.
A poll on Friday underscored the SPD's challenge in North Rhine-Westphalia, Schulz's home state and a traditional bastion of the left with an economy that's almost as big as that of the Netherlands. With the CDU and the Social Democrats tied, the poll suggests the region's governing SPD-Green coalition wouldn't win another term in power.

National polls suggest Merkel's Christian Democrat-led bloc is ahead by as many as 8 percentage points, erasing the Schulz surge that lifted the SPD to a statistical tie in March. Support for the chancellor's CDU-CSU held at 36 percent and the SPD fell 2 points to 28 percent, the lowest since February, in a Forsa poll of 2,502 people published Wednesday. That's still well above the SPD's 20 percent support as recently as January.
"The decisive thing is that the SPD has regained self-confidence," Schulz told reporters while campaigning in Schleswig-Holstein, according to Deutsche Presse-Agentur.
Merkel's Travels
With global geopolitics clouded by risk, Merkel's globe-trotting is playing to her narrative as a force of stability. She traveled to the White House in March for her first visit with President Donald Trump, where she pushed back on his America First-inspired shift to protectionism and began to seek a back channel through his daughter, Ivanka, who visited Berlin in April. As Merkel tours the global stage, it's increasingly difficult for Schulz to make his mark.
"We live in complicated times," Merkel told a CDU rally in Bonn, the former West German capital, on Thursday. "These new things require answers."
In Schleswig-Holstein, the Social Democrats and Greens put together a coalition after the last election five years ago with a party representing the Danish-speaking minority, shutting out the CDU even though it won the most votes with 30.8 percent.
That coalition is now teetering, with support for the CDU at 32 percent, a 3-point edge over the SPD, according to poll for ZDF television published Thursday. The survey of 1,814 people put the Greens at 12 percent, the pro-market Free Democrats at 11 percent, the anti-immigration Alternative for Germany at 6 percent, the Left party at 4.5 percent and the Danish minority party at 3 percent.
— With assistance by Jana Randow
Before it's here, it's on the Bloomberg Terminal.
LEARN MORE