May's Tories Score Biggest Local-Election Wins in Decades
By and
Results suggest May heading for strong general-election win

Premier says she's 'not taking anything for granted' on June 8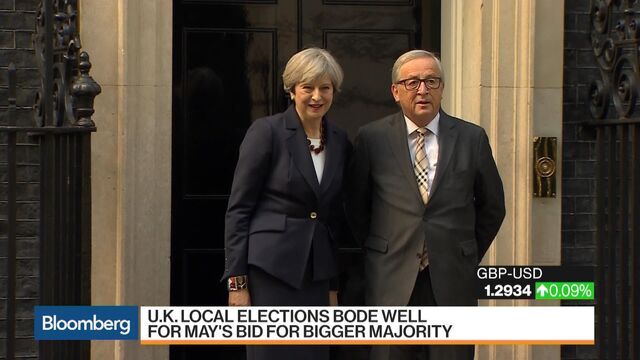 Theresa May's Conservatives cruised to a landslide win in local voting, in a foretaste of a potential victory in the U.K.'s June 8 general election that would give the prime minister a domestic boost going into Brexit talks.
The Tories won 1,882 of the 4,851 council seats contested Thursday in England, Scotland and Wales -- a net gain of 556, according to a BBC tally -- and gained overall control of 11 counties and districts. Labour had 1,137 seats, a net loss of 385, and lost control of seven councils.
Most surprisingly, the Conservatives won the elections for new regional mayors in Tees Valley, in northeast England, and the West Midlands, traditionally Labour areas. They profited from the near-annihilation of the U.K. Independence Party, which was created to fight for Brexit. The BBC projected the national vote share at 38 percent for the Tories and 27 percent for Labour, whose leader Jeremy Corbyn failed to inspire supporters.
May said in Brentford, west London -- a Labour district in her sights next month -- that "we have taken votes from across the whole of the political spectrum."
"Theresa May's consolidation of the Brexit vote is a quite astonishing success," said Rob Ford, professor of politics at the University of Manchester. "They're gaining voters who are excited about Brexit, and not losing voters who aren't."

Painting the EU as a bogeyman and making the election about Brexit has been an effective way to drum up support among vote-weary Britons given that Corbyn is a deeply unpopular political figure. Ensuring a strong turnout is key to her plan to expand her parliamentary majority from the current 17 seats.
The general election "will be won on the day by real people going out and casting real votes," she told reporters in Brentford. She warned that there are "bureaucrats in Europe who are questioning our resolve to get the right deal."
Labour lost about a fifth of its seats in its heartland of Wales as well as overall control of the city of Glasgow in Scotland. While none of this bodes well for Corbyn, it's worth bearing in mind that turnout is lower in local elections and votes weren't being held in areas including London, which voted to remain in the EU and traditionally leans toward Labour.
"It could be the worst projected national share by an opposition party since the BBC started producing them in 1982," Ford said. "For an opposition party to be polling in the high 20s in local elections is dismal. And look at where they're losing: they're losing everywhere."
Read more: The Brexit districts Tories are targeting in June 8 election
Corbyn's allies insisted there were positive signs among the defeats. The results have been "tough" for Labour but not the "wipe-out" some polls were predicting, said the party's finance spokesman, John McDonnell. "We are winning the argument on policy and we are beginning to change attitudes towards Jeremy Corbyn as well," he told Sky News.
The Liberal Democrats, who are trying to use their opposition to Brexit to appeal to voters angry at the referendum result, showed no signs of a breakthrough. They took 437 seats, a net loss of 35. The Scottish National Party also suffered losses to the Tories in Scotland and ceded control of the council in the fourth-largest city, Dundee.
— With assistance by Charlotte Ryan, and Thomas Penny
Before it's here, it's on the Bloomberg Terminal.
LEARN MORE