Make Pregnancy Expensive Again: A Woman's Guide to the New Health Bill
Insurers won't always be required to cover maternity care if the American Health Care Act becomes law.
By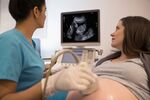 Prior to the passage of the Affordable Care Act in 2010, women who sought to purchase health insurance regularly confronted some harsh market conditions. Insurance companies in the era before Obamacare often wouldn't underwrite pregnant women or would issue policies that excluded care during pregnancy. Having delivered a child via cesarean section, as more than 1 million women do every year in the U.S., also pushed women into a higher-cost category, or disqualified them altogether. Post-partum depression was considered a pre-existing condition. So was infertility, a history of abnormal pap smears, and in certain states, even sexual assault or domestic violence.

By guaranteeing maternity care and making coverage available for people with pre-existing conditions, Obamacare largely did away with the markup on women's health insurance. Critics groused that this shifted the burden unfairly to men and women who didn't plan to have children; in March, for instance, Illinois Representative John Shimkus, a Republican, said one of his primary objections to Obamacare was "men having to purchase prenatal care."
This could all change if the American Health Care Act passed by the House of Representatives on Thursday becomes law. The legislation gives states the freedom to make their own rules for insurers in a way that would restore their ability to raise prices for women who expect maternity coverage, or deny such coverage altogether. 

The U.S. Senate has yet to take up the bill, and recent reports suggest senators might abandon the House legislation and start from scratch. But it's still necessary to understand the potential consequences of the legislation passed by the House. Alina Salganicoff, director of women's health policy at the Kaiser Family Foundation, a nonpartisan research foundation, suggests reviewing what states allowed insurers to do prior to 2011. "We can't predict what the states will do," she said of uncertainties facing the House bill. "The best we can do is look back at how it used to be and extrapolate from that."

So let's do that.
Prior to Obamacare, insurance companies could—and did—charge more for pre-existing conditions. There were no requirements for insurers selling policies to individuals to cover what Obamacare would dub "the 10 essential services," which includes maternity care. All employer-provided health plans had been required by a 1978 law to cover maternity care, but this didn't apply to individual policies. A year before the passage of Obamacare, a National Women's Law Center survey found that only 13 percent of individual insurance plans available to a 30-year-old woman provided any kind of maternity coverage. 

The problem with allowing people to opt-out of maternity coverage is that people who don't plan to get pregnant will opt for cheaper coverage, leaving only the pregnant or soon-to-be-pregnant women in the insurance pool. That's what happened prior to Obamacare, said Lydia Mitts, associate director of affordability initiatives at consumer health-care advocacy group Families USA. "When maternity coverage was electable, it was only purchased by women who were expecting. It was wholly unaffordable for both women and insurance companies," she said. "That's why it was so rare for maternity coverage to be sold in the past."

And that's why, Mitts said, in states that apply for waivers envisioned under the AHCA, maternity coverage is likely to be one of the first essential benefits discarded in plans offered to individuals.
There are alternatives to employer-provided insurance and coverage purchased on the individual market. Many women have health insurance through Medicaid, a program that expanded under Obamacare. Maternity care is covered by Medicaid, and about half the births in the U.S. are paid for by Medicaid, according to an estimate from the George Washington University School of Public Health. 
But the AHCA would limit how much Medicaid will reimburse states, which in turn "will force states to make trade-offs," said Salganicoff. "There's no specific determination of what states need to cover. Pregnant women may not be affected by the cap; there are plenty of related services—lactation consultants, parenting classes, breast pumps—that could be scaled back." 
The AHCA also prevents Medicaid from reimbursing Planned Parenthood for medical services for one year, which in light of the threat to maternity coverage could be a double-whammy for women. Planned Parenthood sees 2.5 million patients every year. Most are women, and almost half are covered by Medicaid. 
Before it's here, it's on the Bloomberg Terminal.
LEARN MORE