Fed's Williams Stands by Hike Outlook as Unemployment Declines
by
Says rate forecast hasn't moved; saw at least three in 2017

U.S. may be "a little bit beyond" full employment, he says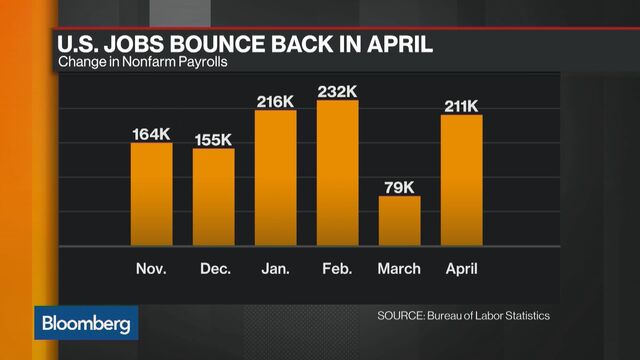 Federal Reserve Bank of San Francisco President John Williams said his outlook for three or four rate increases in 2017 hasn't shifted, as the labor market shows signs of expanding beyond its sustainable rate.
"I haven't changed, again, my views on what appropriate policy is" for the remainder of the year, Williams told reporters on Friday after a speech in New York, referring to his comments last month that three or four hikes would be required.
Fed officials left interest rates unchanged following their meeting this week, indicating that a disappointing first quarter wouldn't stop them from raising rates twice more in 2017 following a hike in March. In their communique, policy makers described as "transitory" a slowdown in first-quarter growth, while emphasizing that inflation was running close to their 2 percent goal and the labor market continued to strengthen.

Labor Department data on Friday backed up their views, showing employers created 211,000 new jobs in April as unemployment fell to 4.4 percent, the lowest since 2007. Annual wage gains, though, slowed a touch to 2.5 percent.
"It's nice to see further confirmation that that first quarter GDP number was an aberration," Williams said of the report. He previously said in response to questions from the audience that the U.S. "is at full employment, or maybe even a little bit beyond."
Investors see the chances of a rate increase at the next meeting in June at nearly 80 percent, according to pricing in interest-rate futures contracts.
Williams, who took over for Janet Yellen at the San Francisco Fed in 2011 when she joined the Board of Governors, next votes on monetary policy in 2018. He reiterated his view on Friday that the Fed this year should start shrinking its balance sheet, which has about $4.5 trillion in holdings.
Before it's here, it's on the Bloomberg Terminal.
LEARN MORE