STYLE
A Defense of the Everyday Bow Tie
Adopted by fashion-forward athletes and progressive philanthropists, this most polarizing piece of neckwear risks returning to the land of kitsch.
by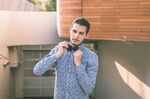 To be blunt about it—to knot together a tidy truth about neckwear—there are three types of bow tie guys in this world: The absolutists, who proudly wear nothing but bow ties; the innocents, who know not how to tie one; and the dabblers, some of whom are out to play now.

These dabblers sport bow ties at horse races, springtime outdoor weddings, garden parties, and other festive occasions, where they contribute to the atmosphere with these antique decorations.
In Manhattan, they are a male rite of the springtime street scene. It is natural law: In some neighborhoods, the month of May brings out playboys idling in convertible Jaguars. In others, bow ties migrate onto collars like a kaleidoscope of butterflies. You always see them worn with pride—strong pride, because the bow tie arouses strong feelings.
Why is the bow tie such a polarizing piece of cloth? My theory is that it reveals all male neckwear—even the cravat of choice for Croatian mercenaries in the 1600s—to be ornamental ribbons.

The choicest bow tie district in Manhattan is Madison Avenue in the 40s, with its foot traffic to and from Grand Central, Brooks Brothers, and many financial and legal institutions. Recently, on a warm afternoon, I spotted a couple of madras bow ties worn with nifty seersucker jackets, a couple of striped ones paired with blue blazers, and a polka-dotted blue one matched with a good, dark suit in the Winston Churchill style.
I was taking this all in while walking to the Tie Bar, which just opened a six-month pop-up on this stretch of Madison, to meet Chief Executive Officer Allyson Lewis. She reported that the bow tie business, after years of robust growth, "has plateaued." Five or 10 years ago, when pro athletes were normalizing the bow tie at post-game interviews and Mad Men's Bertram Cooper was giving them a dapper boost, a lot more men began dabbling. As Lewis said, "Guys were like, 'It's OK! A bow tie doesn't have to be professorial!'" Having expanded its niche, it now is settled in. 

But not all is quiet on the bow-tie front. On the contrary, they are everywhere in the news—from the collar of Bill Nye at climate-change events to the neck of a canine in first class. They are, also, everywhere on the news, beneath the talking head of George Will and all around the aura of Tucker Carlson, who used to be a Bow Tie Absolutist but recanted. "People despise you when you wear a bow tie," he has said. (You can take the boy out of the bow tie, but you can't take it out of his personality.)
These ornamental ribbons have taken on a new, symbolic life. Organizations that include BowTie Foundation and celebrities such as Modern Family star Jesse Tyler Ferguson encourage wearing and buying them for socially conscious purposes through the Tie the Knot foundation. 
These organizations support causes to which I would gladly donate. Still, I wonder: How much money do I need to pledge to get them to leave bow ties out of it? Their good intentions may reshape the garment's meaning in the direction of kitsch, pushing it toward the stunt-y neckwear equivalent of a Movember moustache.

That's the potential future. For now, take a look at the state of things on the bow tie plateau. Clothiers keep supplying traditional absolutists with traditional styles: The bow tie is the official sponsor of black-tie events, after all. Tradition weighs heavy. 
And the bow tie innocents? This is special time of year for them, too. The manager of a made-to-measure suitmaker recently told me he's been organizing "bow tie lessons for groomsmen"—once fitted, the guys learn how to tie one on, first practicing on their thighs. Meanwhile, more dandyish dabblers are getting a bit wild with pattern and form. 
Alexander Ochs makes stubby ones with colors and textures that range from frisky to freaky. Drake's is playing nicely with flashy paisley. Brooks Brothers is experimenting with reversible numbers that offer a two-for-the-price-of-one deal—stripes on one side, flowers or plaid on the other. And because, with an extra flip of the silk, you can halfway un-reverse the tie to expose clashing patterns, it's technically a three-in-one deal. But only one in a million guys can pull off that extra twist and stick the landing.

One last reminder: Even though the field of pre-tied, high-end bow ties is constantly expanding—including new options from such brands that should know better as Tom Ford International LLC, Alexander McQueen, Dolce & Gabbana—you're still selling off a little bit of your soul when you buy one. Fendi has some nerve, pushing a $395 pre-tied mink-and-silk number. It looks like a giant caterpillar, which is the upside: Wear it, and you'll be tickled into joining in the laughter of everyone looking at you.
Before it's here, it's on the Bloomberg Terminal.
LEARN MORE