Your Evening Briefing
Bloomberg News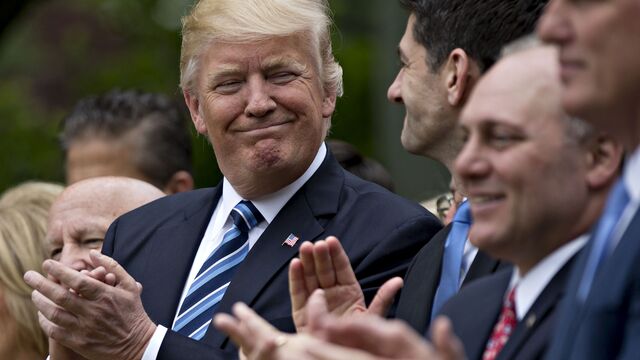 Want to receive this post in your inbox every afternoon? Sign up here.
In a second showdown over the Obamacare repeal, the House narrowly passed a revised bill with a 217-213 vote. The dramatic do-or-die vote on the embattled bill chalks up a legislative victory for President Trump after weeks of uncertainty, furious lobbying, and an embarrassing defeat when the first vote was scrapped. The bill in its current form now faces a tough road in the Senate. (We're tracking all major policy changes to the GOP's health plan and their impacts here.) House Republicans joined the president at a celebration after the vote in the White House Rose Garden, where Trump proclaimed: "Your premiums are going to start to come down." —Katie Robertson
Senate GOP plans its own Obamacare repeal bill. The Senate has made it clear it will revise the narrowly passed health-care bill. Several key Republicans have said they will set aside the the bill and write their own version instead, a sign of how difficult it will be to deliver on seven years of promises to repeal Obamacare. To get some kind of bill through his chamber, Majority Leader Mitch McConnell will need to unite moderate and conservative wings of the party that want to pull the measure in entirely different directions.
Boeing's China rival is mounting its boldest challenge yet. The nation's first modern large jet is expected to make its maiden flight on Friday after years of delays. The C919 plane, which was built by Comac using a string of Western suppliers, is China's biggest attempt yet to break the stranglehold that Boeing and Airbus have on the market for big commercial airlines.
The retail crisis could be coming to American groceries. Supermarkets have so far been mostly immune to the ravages of online shopping and the all around apocalyptic outlook facing the nation's retailers. That may change when Lidl, a German retailer known for low prices and efficient operations, starts an aggressive U.S. expansion. The cut-throat competition comes during an historic bout of food deflation.
Can Wal-Mart's expensive new e-commerce operation compete with Amazon? The big-box retailer's primary rival already dominates the cities and coasts, and it's next stop is the heartland, home to Wal-Mart's customer base. But a recent acquisition spree, including Jet.com, may have given Wal-Mart much-needed digital chops to catch up.
Apple buys more company debt than the world's biggest bond funds. Like many tech companies, the iPhone-maker has resisted transferring the money it earns abroad back to the U.S. to avoid triggering corporate income taxes on the earnings. Instead, it now has $148 billion of its record $257 billion cash pile invested in corporate debt alone.
How did the Kremlin-funded RT channel get so powerful? U.S. intelligence officials have accused the little-watched Russian cable network of helping swing the election to Trump. RT's coverage of U.S. politics and the war in Syria may well offer a window into the Kremlin's PR strategy, but if the network's largely young, left-wing journalists work on behalf of the Russian state, they hardly seem aware of it.
This guilt-free ice cream is a cult hit, thanks to Instagram. Coming in at around 300 calories a pint (compare that to more than 1,000 in a pint of Ben & Jerry's), Halo Top's high-protein ice cream is a treat for the health conscious. Until recently, the Los Angeles-based company hadn't spent a dime on traditional advertising. Yet the ice cream has exploded in popularity, particularly among Instagram users in fitness and weight-loss communities, and its biggest challenge is keeping retailers fully stocked.
Before it's here, it's on the Bloomberg Terminal.
LEARN MORE