Your Evening Briefing
Bloomberg News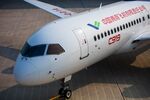 The evening briefing will soon be available in your inbox every day. To be among the first to get it, sign up here.

Will China's plane-maker threaten Boeing and Airbus? State-manufacturer Comac is about to stage the first test flight of its long-awaited C919, which will take on the world's big two planemakers. The industry is forecast to generate sales in China alone of more than half a trillion dollars over the next 20 years, so it's a big deal for China. Here's what you need to know before the plane is expected to take to the skies tomorrow. —Alex Millson
China's building a medical tourism hub to stop the rich seeking treatment overseas. On the island of Hainan, companies are investing billions of dollars to transform a string of riverside villages into a medical tourism destination. The hub will bring in cutting-edge treatments for diseases like cancer that are available abroad, but don't yet have regulatory approval in China.
This billionaire wants to be Russia's Jeff Bezos. A decade ago, Mikhail Gutseriev was a billionaire on the run, trying to avoid the fate of oil titan Mikhail Khodorkovsky, who'd flouted the power of Vladimir Putin and been sentenced to 10 years in jail. Now the tycoon, who hired Jennifer Lopez and Sting to perform at his son's wedding last year, has amassed a fortune of almost $4.7 billion. This is his incredible riches to riches tale.
Taiwan overtakes India as Asia's top destination for foreign funds. Global investors' love for Indian equities is starting to cool, helping Taiwan to become the biggest destination for overseas money this year. The island's equities have attracted $7.3 billion since January 1.
China's high rollers are phoning in big bets to Manila casinos. In VIP rooms reserved for high-spending gamblers, many of the players are nowhere to be seen. Instead, in a practice banned in other gaming centers, many Chinese are placing their bets over the phone and watching the action via video cameras above the tables. But the proxy betting is raising fears of money laundering.
Australia's seethes at proposal to move BHP Billiton listing. Treasurer Scott Morrison said the suggestion from activist investor Elliott Management that BHP shift its listing to the U.K. was "unthinkable" and that the multinational could commit a criminal offence if it were to do so. Elliott is meeting investors in Australia this week to outline the proposals, although BHP has rejected the plans.
Why you should visit Easter Island now - in 17 stunning photos. Beautiful beaches, epic surfing, world-class diving, and a Rapanui people determined to preserve their Polynesian heritage - and let's not forget those mysterious stone statues. Here's why visiting the island of Rapa Nui is well worth the long haul. 

Before it's here, it's on the Bloomberg Terminal.
LEARN MORE