Turnbull Sounds Like Trump With 'Australia First' Budget
By
Aussie leader to release first budget since election on May 9

Ex-banker replacing austerity measures with nation-building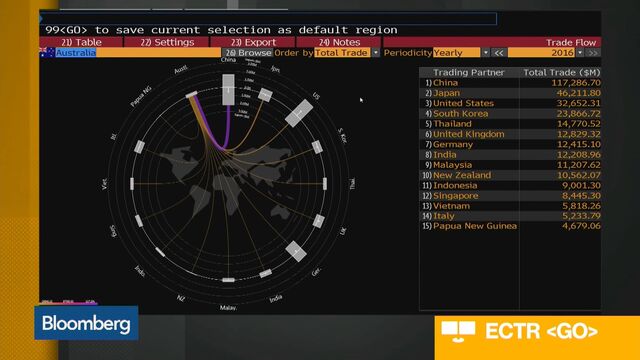 The rhetoric surrounding next week's Australian budget is sounding familiar.
Prime Minister Malcolm Turnbull is betting he can win back disaffected voters by splurging on infrastructure after declaring himself a "nation-building" prime minister. Echoing Donald Trump's call to put America First, Turnbull is talking up nationalist policies as the government's and his own popularity languish.
The stakes are high: by switching focus from spending cuts and reining in a deficit forecast at A$36.5 billion ($27 billion) for the 12 months through June, Turnbull -- who met with Trump in New York on Thursday -- risks tarnishing a reputation for sound economic management that his Liberal-National coalition has built over decades. It could cost the nation its cherished AAA credit rating, which is on negative outlook at S&P Global Ratings.
"Shifting to nation-building from austerity gives Turnbull a chance to show that he has an idea of where the country is heading while putting his own stamp on the leadership," said Jill Sheppard, a political analyst at the Australian National University in Canberra. "He's cherry-picking some of Trump's more attractive ideas but knows he can't go too far down the populist, Australia-first route because it may seem fake to voters."
Turnbull, 62, is under pressure to sell a strong economic narrative that can cement his incumbency, with his government desperate to break from a period of instability that's seen Australia churn through five changes of leader over the past decade. Should he fail, rumblings over his leadership style from discontented lawmakers on his backbench may grow louder.
Schools, Infrastructure
The prime minister's new zeal can be seen in measures already announced or leaked ahead of the May 9 budget, including infrastructure spending and more funding for schools. It's a far cry from the "debt and deficit disaster" his predecessor Tony Abbott warned Australia was facing just three years ago -- even though the nation's liabilities have worsened since then.
Global governments have begun to steer away from austerity. Trump is leading the charge with a $1 trillion infrastructure plan. Turnbull announced plans in March to expand an iconic hydro-electric scheme, and has also pledged to building a new inland-rail system and a second Sydney airport.
The two leaders used a commemoration of a joint World War II battle as the catalyst for their first face-to-face talks in New York, three months after Trump called an agreement for the U.S. to resettle refugees detained by Australia a "dumb deal." The president earlier told reporters he'd commit to the pact and described as "exaggerated" reports his previous conversation about it with Turnbull had been terse and heated.
"We're not babies," Trump added, saying he plans to visit Australia without giving a time frame. "It was a little bit of fake news -- that's the expression."
Survival Story
Since seizing the leadership in September 2015 from Abbott, Turnbull has seen his popularity wane. He squeaked to a razor-thin election victory 10 months ago.
The poll result has saddled Turnbull with a Senate in which a mish-mash of populist fringe parties have frequently used their collective holding of the balance of power to block his legislative agenda. That's a hurdle next week's budget must also clear.
The former Goldman Sachs banker has peppered voters with a grab-bag of policies that sometimes seemed at odds with his pre-leadership reputation as a socially progressive, free-market capitalist. In recent weeks he has announced a crackdown on foreign workers, a tightening of citizenship rules and restrictions on gas exports to protect domestic supply.
To date, Turnbull's government has stuck to plans to bring the budget back to surplus by 2021. S&P said in December that Australia's worsening forecasts put further pressure on the score and it would "monitor the government's willingness and ability to enact new budget savings or revenue measures to reduce fiscal deficits materially over the next few years."

In a bid to free up government coffers, Treasurer Scott Morrison has promoted the concept of "good debt" used to fund new projects and recurring "bad debt" that should be paid off and retired. S&P declined to comment on whether such a strategy could jeopardize the AAA rating.
"There's little distinction from the ratings agencies between good debt and bad debt," said Daniel Blake, a Sydney-based strategist for Morgan Stanley. "If debt is debt, pushing towards an infrastructure stimulus places more pressure on the AAA rating and S&P's key line-in-the-sand seems to be the government's ability to deliver a surplus in 2021."
That may be a risk worth taking, says Blake. It may be preferable for the government to get on with selecting the right infrastructure projects and "let the ratings take care of themselves down the track," he said.
While the first budget after an election is traditionally seen in Australia as a chance to spend political capital and implement fiscal belt-tightening, Turnbull and Morrison will be wary of repeating the mistakes of predecessors Abbott and Joe Hockey.
After winning government in 2013, in their first budget the next year Abbott and Hockey surprised and infuriated voters with unheralded cuts to education and health as government revenues plunged in the wake of a disappearing mining boom. Their political fortunes never recovered and within two years, both had lost their jobs.
"Governments that say they're going to build things generally do well," said Peter Chen, a political analyst at the University of Sydney. "Australian governments have previously been accused of fiscal mismanagement when running up deficits, so steering away from that" and arguing that debt can build infrastructure is a sign of political maturity, he said.
Before it's here, it's on the Bloomberg Terminal.
LEARN MORE