Trump Isn't Protectionist, Conrad Black Tells Canadian Lawmakers
By
'We're not dealing with a monster,' Black says of president

Former media baron has advised Trudeau on dealing with Trump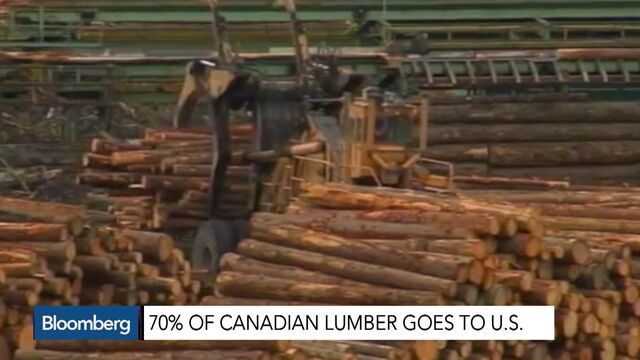 Conrad Black, a former newspaper executive who has advised Prime Minister Justin Trudeau on how to deal with Donald Trump, assured lawmakers the U.S. president isn't targeting Canada when he talks about ripping up Nafta.
The former Hollinger Inc. chairman told the House of Commons foreign affairs committee on Thursday the president's comments about only making minor changes to the Canada-U.S. trade relationship should be seen as the clearest signal on where things are headed. Trump is expected to give formal notification soon that he wants to renegotiate the North American Free Trade Agreement.
The president is mainly concerned about the potential loss of American jobs because of unbalanced global trade, Black said.
"In tearing up Nafta and so forth, Donald Trump has never expressed any problem at all with Canada-U.S. free trade," Black said in video testimony from Toronto. "He isn't a protectionist, he is actually in favor in trade. What he doesn't like is trade that consists of a net sizable exportation of unemployment to the United States."
Last month, Trump attacked Canada's dairy industry and the U.S. imposed tariffs on softwood lumber. Trudeau has said he welcomes a renewal of Nafta.
'Serious' Implications
Canada should take Trump's proposal to slash U.S. corporate tax rates more seriously, because it would make companies north of the border less competitive, Black said. "The implications of that to Canada are clearly serious in terms of where international investor money is apt to go to get into this North American market."
"He would take outrageous positions" as a negotiating strategy, Black said of Trump. "He doesn't move around in terms of what he wants that much."
Black, author of books on U.S. leaders and Canadian history, said Trump's focus on fair trade shouldn't be that surprising even if he uses tough language. "We're not dealing with a monster here, we are dealing with a reasonable person who just wants to do a good job for his country. Well so do all national leaders, and in that sense, he's not unusual."
Before it's here, it's on the Bloomberg Terminal.
LEARN MORE