SocGen Profit Drops After $1 Billion Libya Legal Settlement
by and
Bank posts trading rebound, though gains lag French rival BNP

SocGen took a 350 million-euro legal provision in quarter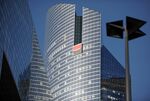 Societe Generale SA agreed to pay 963 million euros ($1.05 billion) to settle a legal dispute with the Libyan Investment Authority over alleged bribery, averting a trial and prompting a surprise drop in profit.
The French bank and LIA reached a deal to resolve "all matters between both parties" related to five transactions between 2007 and 2009, SocGen said in a statement on Thursday. The court case, following allegations of corruption and bribery, was scheduled to start in London today. A similar lawsuit against Goldman Sachs Group Inc. -- that dealt with allegations of undue influence instead of bribery -- was thrown out six months ago.
The bank apologized to the LIA and and said it regrets the "lack of caution" of some of its employees, booking a 350 million-euro provision in the first quarter related to the case. The bank reported lower first-quarter profit after the charges, with net income falling to 747 million euros from 924 million euros a year earlier. It had been expected to post profit of 863 million euros, the average estimate of six analysts surveyed by Bloomberg.
"These results are not extraordinary," said Jerome Forneris, who helps manage $9 billion at Banque Martin Maurel in Marseille and owns shares in Societe Generale. In investment banking, the performance "was good but a bit below what one might have expected."
Societe Generale fell as much as 2.7 percent and was down 0.6 percent at 51.08 euros by 11:10 a.m. in Paris trading, after closing at a six-year high Wednesday. The stock has jumped 10 percent since centrist Emmanuel Macron's victory in the April 23 first round of France's presidential elections. According to polls, Macron is seen winning the runoff vote with anti-euro Marine Le Pen this Sunday.
'Well Equipped'
Societe Generale is "well equipped" should any unexpected political developments create market volatility, Chief Executive Officer Frederic Oudea said on a call with journalists, declining to elaborate on the French presidential vote. "Over the next few quarters, the group will continue actively working to bring an end to past disputes."
The Libyan case hinged on a $58.4 million payment made by Societe Generale to a businessman named Walid Al-Giahmi to secure investment deals. The LIA, which manages Libya's oil profits and has assets of more than $60 billion, sought to claim losses of about $1.5 billion. The group alleged the payment was a bribe, making the trades invalid. The bank had denied wrongdoing, saying the money was for introductory services and market research.
"We vigorously defended the allegations against Mr. Giahmi," Kathryn Garbett, head of fraud defence at law firm Mishcon de Reya, said in an e-mailed statement. "This is a complete exoneration of my client." 
Libya Probe
The deal allows the French lender's executives to avoid testifying in court about payments that are part of an investigation by the U.S. Department of Justice into whether banks, hedge funds and private equity firms violated anti-bribery laws in Libya. Three senior executives were granted permission to testify behind closed doors, fearing incrimination in that probe, and as many as 50 Libyans had their identities shielded to protect their families back home.
Societe Generale, a global leader in equity derivatives, is reorganizing its management team and cutting costs as Oudea, 53, prepares new 2020 targets that will be announced in November. While BNP on Wednesday posted a 33 percent revenue increase in global markets, other big European peers -- Deutsche Bank AG, Credit Suisse Group AG, UBS Group AG and Barclays Plc -- had a combined 6 percent decline in dollar revenue from trading in the quarter.
To read about BNP's results, click here.
Oudea said he's "confident" in the bank's profitability outlook for the rest of 2017 after return on equity reached 10.5 percent in the first quarter, excluding exceptional items. The bank is gaining market share in trading and its equity derivatives business remains "resilient," Didier Valet, one of his deputies, said on the call.
Societe Generale's global markets and investor services revenue rose 8.3 percent in the first quarter from a year earlier. The bank cited "good rates and credit activity," with "strong client appetite for structured solutions," according to a slide presentation. Income from trading stocks rose 4.1 percent, while fixed-income revenue jumped 12.8 percent, though BNP Paribas posted 30 percent-plus increases for both businesses.
Expenses Rise
Operating expenses rose 2.6 percent from a year earlier to 4.2 billion euros, while income at Societe Generale's French consumer-banking unit dropped 1.3 percent to 2.06 billion euros in the quarter, matching the average of analyst estimates compiled by Bloomberg News.
Societe Generale's ability to control costs, the quality of its loan book and growth in the international banking division are among positive features, Martin Maurel's Forneris said.
The company said it would spend an additional 250 million euros over the next 12 to 18 months to help digitize the French retail business. The division has been hit by low interest rates, prompting the company to pledge to cut 20 percent of its branches to restore returns while aiming to attract customers online.
Quarterly profit from international retail banking and financial services rose 44 percent from a year earlier as a rebound in Russia continued. The bank's common equity Tier 1 ratio, a measure of financial strength, stood at 11.6 percent, up from 11.5 percent at the end of 2016.
Societe Generale is planning an initial public offering of its car-leasing business ALD in coming months, subject to market conditions. The French bank has said it may sell between 20 percent and 25 percent of the unit as part of the IPO.
Before it's here, it's on the Bloomberg Terminal.
LEARN MORE