markets
Siemens Is 'Well-Advanced' on Health-Care Unit Carve Out
By
Company is looking at three 'alternatives' for separation

Siemens reported higher profit, sales in second quarter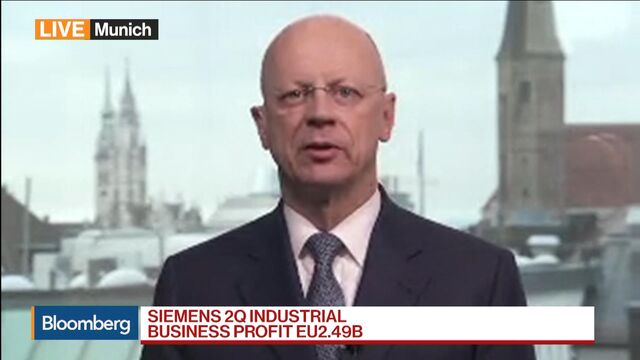 Siemens AG said it's moving ahead with a planned split from its health-care division as Europe's largest engineering company whittles down its core holdings to focus on energy and factory equipment.
Siemens is "well advanced" on the carve-out, Chief Financial Officer Ralf Thomas said in an interview with Bloomberg TV. "We have been preparing all the decisive steps and we are following three very interesting alternatives."
The possibilities include an initial public offering, spin off or a reverse merger with a public company, he said later to reporters.
Siemens announced in November its intention to spin off or sell shares in the health-care division, called Healthineers, without providing details on timing or the structure of the deal, only that it would retain control of the unit. An IPO could be worth between 30 billion euros ($33 billion) and 40 billion euros, according to a Bloomberg Intelligence analysis. The move would come as Siemens transforms its industrial conglomerate structure to one resembling more of a holding company.
Siemens also plans to fold wind-energy operations into Gamesa Corp. Tecnologia SA of Spain and people familiar with the situation have said it's in talks with Bombardier Inc. about a combination of the two companies' rail businesses. In the interview, Thomas said there were "rumors" in the market, and with the merger of China's two main regional train makers, antitrust authorities should look at the global landscape for the trains business.
"It's obvious there's a lot of consolidation going on," he said.
Shares fell 1.5 percent to 130.50 euros at 9:34 a.m. in Frankfurt, valuing the company at 111 billion euros.
Profit Rose
The Munich-based company reported Thursday that profit from so-called industrial operations rose 18 percent to 2.49 billion euros. Sales climbed 6 percent to 20.2 billion euros, beating an average estimate of analysts surveyed by Bloomberg of 19.7 billion euros.
Orders were higher in nearly all industrial divisions, with the strongest growth in wind and renewable power and energy management contracts. Power and gas orders slumped 38 percent as a contract last year in Egypt wasn't repeated. Eight out of its nine divisions reported profit margins that were in line or higher than the goals set by the company for 2020.
"The core trends within the period are generally encouraging," Morgan Stanley analysts including Ben Uglow wrote in a note.
Siemens also confirmed its outlook, saying it would now also include the effects of acquisitions closed in the middle of the first quarter.
The company in January improved its expectation for profit margin for the industrial business to the range of 11 percent to 12 percent, and said basic earnings per share would be in the range of 7.20 euros to 7.70 euros.
— With assistance by Manus Cranny
(
Adds details on health-care unit in fourth paragraph.
)
Before it's here, it's on the Bloomberg Terminal.
LEARN MORE