Schaeuble Says Euro Area Needs Fiscal Discipline to Be Strong
By
Europe can be model, German finance chief says in South Africa

Germany proposing 'Compact with Africa' for G-20 summit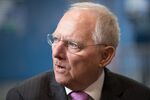 German Finance Minister Wolfgang Schaeuble said Europe should set an example by curbing debt and sticking to euro-area fiscal rules as he told a South African audience that the Group of 20 wants to help the continent boost its economy.
With Germany chairing the group this year and Chancellor Angela Merkel due to host a summit of G-20 leaders in Hamburg in July, Schaeuble said a proposed "Compact with Africa" would seek to encourage private investment and build up infrastructure to harness the continent's "tremendous growth potential."
"Our troubled history in Europe has shown us that nationalism and protectionism are never the right answers," Schaeuble said in a speech at the University of KwaZulu-Natal in Durban on Thursday. "We have learned from our experiences in the European Union that transnational cooperation is not a zero-sum game where there are only winners and losers."
Merkel's government is seeking to make African economic growth a G-20 focus, even as the bloc faces unprecedented challenges including the U.K.'s exit and U.S. threats against the global system of free trade. One goal is to help reduce incentives for Africans to flee their homelands in search of better lives in Europe.
Schaeuble said divorce talks between the European Union and the U.K. would be tough, "but we don't want to punish the U.K."
"We have a strong interest in a strong U.K.," he told the audience. "But of course we have to defend our own interests as well."
Schaeuble criticized unnamed politicians and governments in the euro area that "shy away" from economic overhauls because the measures are unpopular among voters.
"If Europe is to remain competitive, its member states must continue to work together, and stick to the rules we have agreed upon," he said.
Before it's here, it's on the Bloomberg Terminal.
LEARN MORE