Tories See May's `Genius' Attack on EU Giving Her a Boost
By
U.K. Prime Minister 'never fails to surprise': Alan Duncan

Juncker trying to weaken May ahead of vote: Iain Duncan Smith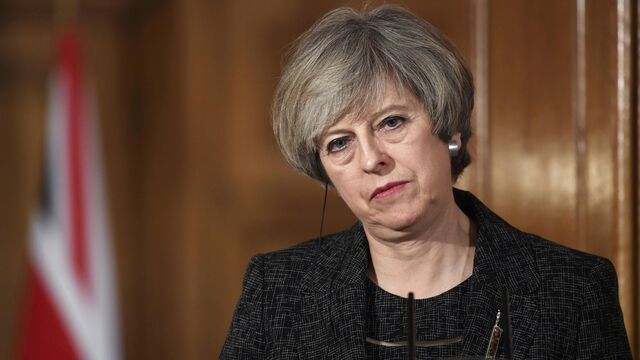 Prime Minister Theresa May's full-throttle attack on European Union officials delighted Conservative colleagues, who said the spat with Brussels will boost support among voters for her Brexit plans.
May picked "a genius moment" to accuse the EU of meddling with the June 8 elections and making threats against Britain, Europe Minister Alan Duncan told Bloomberg News. "She never fails to surprise."
Former Tory party leader Iain Duncan Smith said that the European Commission President Jean-Claude Juncker's attempt to "weaken" May had backfired.
"Instead of diminishing her election prospects, they are playing into her hands," Duncan Smith said in an interview on Thursday. "It was a mean-spirited attempt at bullying by the EU but Theresa has shown them they can't."
The Conservatives are campaigning to be re-elected on a platform of May's strong personal leadership at a time when the country faces the unprecedented challenge of navigating its withdrawal from the EU after more than four decades of membership.
Tory aides are concerned their commanding double-digit lead over rival Jeremy Corbyn's Labour Party in opinion polls will mean voters are complacent about the result and won't show up for May on polling day.
'Hands Off'

In a surprise move after visiting the Queen Elizabeth II to mark the dissolution of Parliament, May stood outside her 10 Downing Street London residence and accused the EU of making "threats against Britain" and attempting to influence the election.
The story dominated prime-time television news and pro-Brexit newspapers had a field day. The Sun newspaper described May as "going ballistic" at the EU, while the Daily Mail trumpeted "hands off our election." Her criticism followed unflattering and detailed briefings to German media of an April 26 dinner she hosted for Juncker.
"These negotiations are difficult enough as they are; if we start arguing before they even begin, they will become impossible," European Union President Donald Tusk told reporters in Brussels.
At the same time, the political calculus behind May's salvo is understood, according to Margaritis Schinas, spokesman for the European Commission. "We are not naive, we know that there's an election taking place in the United Kingdom," Schinas said in Brussels.
The Frankfurter Allgemeine Sonntagszeitung newspaper reported on Sunday that Juncker left May's dinner shocked about her unrealistic expectations for the Brexit deal and claiming that she was living in another galaxy.
"This was a quite deliberate attempt by Juncker and his people to try to weaken the prime minister during the election," Duncan Smith said, drawing a parallel with the villain in William Shakespeare's Othello. "He is like Iago, whispering poison into the ears of others around him."
"They wanted to cause a massive amount of disruption for Theresa and it's backfiring for them," he said. "If you weren't convinced it was right to vote to leave the EU last year, this will convince you."
— With assistance by Ian Wishart, and Jonathan Stearns
Before it's here, it's on the Bloomberg Terminal.
LEARN MORE