HSBC Revenue Gain Raises Prospect For Growth After Shrinking
By and
Revenue gains 2%, beating expectations as profit climbs 12%

Markets income growth beat almost all U.S. and European rivals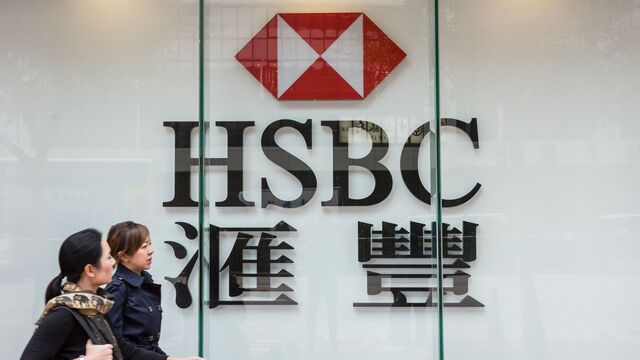 HSBC Holdings Plc's investors are seeing a glimpse of what they want after years of shrinking: a return to revenue growth.
The shares rose the most in five months as the bank reported a surprise jump in adjusted revenue driven by loan growth in Asia as well as the investment bank's performance. Trading revenue jumped 29 percent, exceeding the average 9 percent rise at nine of the largest global investment banks, data from Bloomberg Intelligence show.
"Revenue growth was driven by a solid recovery in retail banking and wealth management and stronger markets, which addresses our earlier concerns about flattening top-line growth," Sandy Chen, a Cenkos Securities analyst, said in a note to clients. "Is this first-quarter recovery a one-off? We do not think so."
Chief Executive Officer Stuart Gulliver has exited almost 100 businesses and 18 countries -- moves that have taken a toll on revenues -- while enduring several costly misconduct scandals. The bank has recruited Mark Tucker to succeed Douglas Flint as chairman in October, giving the head of insurer AIA Group Ltd. the task of galvanizing growth and finding a new CEO, with Gulliver set to retire next year.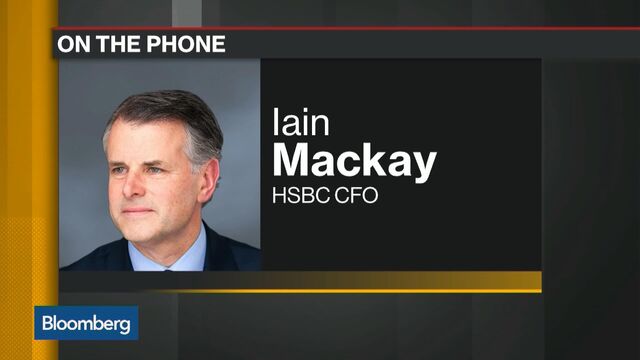 The only major banks to post better quarterly trading gains were BNP Paribas SA and Morgan Stanley, which both recorded gains of more than 30 percent, company filings show. Shares of Barclays Plc, the other main London-based investment bank, plunged last week after reporting an unexpected decline in fixed-income trading.
"We saw extremely strong performance across virtually every product line -- rates, credit, and global liquidity and cash management -- and we've certainly seen a recovery of more normal trading conditions in Asia," Finance Director Iain Mackay said in a telephone interview.

HSBC shares gained 4 percent to 671 pence as of 11:53 a.m. in London, the biggest gain since December. Share repurchases have helped push its stock up more than 53 percent in the past year, and some analysts had been hoping for an update on the prospect of further buybacks.
Read more: Gadfly on HSBC's results
Mackay said the bank would take a pause after $3.5 billion of repurchases in the past eight months. The firm's common equity Tier 1 ratio jumped to 14.3 percent, above its target range of 12 percent to 13 percent.
"With a strong capital position, we won't be surprised if the bank announces another share buyback in the second half," Chirantan Barua, an analyst at Sanford C. Bernstein who has a market-perform rating on the stock, said in a report.
Marring the quarter was the fact revenue again rose slower than costs -- a measure the bank calls jaws -- which management has identified as a strategic issue to address. Adjusted jaws was at negative 0.6 percent compared with negative 2.8 percent last year.
Compliance Splurge
The bank has hired 1,800 extra compliance staff since the start of the year, raising its total to more than 6,000 worldwide, executives said on a call with reporters. Investment in compliance and regulatory programs increased 12 percent to $800 million in the quarter as the firm strives to improve its anti-financial crime capabilities and comply with the demands of its Department of Justice monitor. 
The U.S. authority has overseen HSBC since it agreed a deferred prosecution agreement and was fined $1.9 billion in 2012 for helping Latin American drug cartels launder money. It would be "naive" to think the DPA would not affect the lender's ability to repatriate about $8 billion in capital the lender has tied up in America, Mackay said on a call with analysts. The bank has said it intends to return some of the released U.S. capital to investors via buybacks.
CEO Gulliver has also flagged potential trade disruption from U.S. President Donald Trump's protectionist agenda and a slowdown in the U.K. after Brexit as headwinds for the bank. The bank plans to move up to 1,000 investment bankers to Paris with the U.K. likely to lose unfettered access to the single market once the country leaves the European Union.
'Turbulent Time'
"Clearly its going to be a pretty turbulent time for the U.K. economy, there's a lot of stuff going on in the political sphere right now," Mackay said in the interview. "It's pretty early days from a Brexit perspective. That will develop over the next two years, but we have certainly not started the process" of relocating staff to France.
Adjusted pretax profit rose 12 percent to $5.94 billion, beating the $5.3 billion average estimate in a Bloomberg analyst survey. Losses on bad loans fell to $236 million from $800 million in the same period last year as commodity prices recovered, lifting the value of oil and gas assets.
Retail banking and wealth management, HSBC's largest division, reported a 15 percent gain in revenue to $5 billion as wealth management surged 45 percent on rising interest rates and higher customer investment activity in Asia. The commercial bank posted a 1.5 percent increase in income driven by the global liquidity and cash management business.
"I'd be a happy man if I could close out 2017 right now," Mackay said on Bloomberg Television after the results were reported. He reiterated the bank's guidance for a 3 percent to 4 percent increase in 2017 revenue.
— With assistance by Paul Panckhurst, and Anna Edwards
Before it's here, it's on the Bloomberg Terminal.
LEARN MORE