French, Southern European Stocks Surge as Macron Wins Debate
By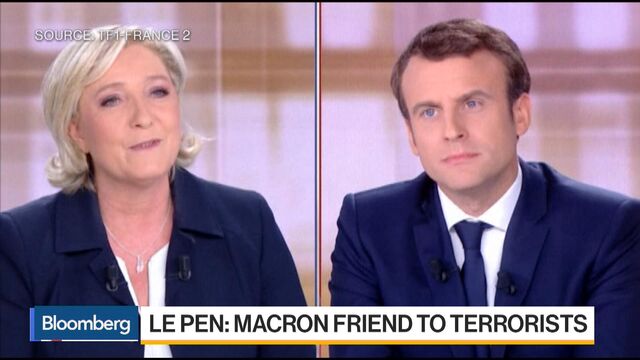 And now, back to the fundamentals.
Investors scooped up French, Italian and Spanish stocks as jitters over the euro area's future diminished further with French presidential candidate Emmanuel Macron emerging as the apparent winner of last night's TV debate over anti-euro Marine Le Pen, and with the focus quickly shifting to the region's brisk economic recovery.
Italy's FTSE MIB Index surged 1.5 percent while Spain's IBEX 35 added 0.9 percent and France's CAC 40 rose 1 percent, extending their sharp rally that started on April 24 after the nation averted what investors had said would be the worst-case scenario for a runoff vote, a contest between two populist candidates.

The latest poll showed Macron is expected to defeat Le Pen on May 7, with 61 percent of voting intentions versus 39 percent for Le Pen. Fund managers and market strategists in recent months had cited the risk of seeing Le Pen winning the election as a reason to hold back on investing in European stocks.
"With just two days of campaigning to go, the polls all put Emmanuel Macron well ahead," Natixis strategists Sylvain Goyon and Thomas Zlowodzki wrote in a note on Thursday. Using data from the French Interior Ministry and detailed polling, the strategists see good chances that Macron's En Marche movement will do well in the June parliamentary elections and could even get an absolute majority, which could lead to swift economic reforms.
"This scenario plays very much in favor of risky assets, particularly European equities," they wrote.
While political risks wane, investors' focus is quickly turning to the euro-area's brisk economic recovery. Data showed earlier on Thursday activity in manufacturing and services accelerated more than initially estimated. The region's composite Purchasing Managers' Index rose to 56.8 in April, while the spread between gauges for the rates of expansion in Germany, France, and Italy hasn't been narrower since data collection started in 1998.
Before it's here, it's on the Bloomberg Terminal.
LEARN MORE