markets
ECB Rate Guidance up for Debate as Praet Focuses on Data
By and
Board member says gap between QE and rate hike might be short

Faster wage growth still needed for sustainable inflation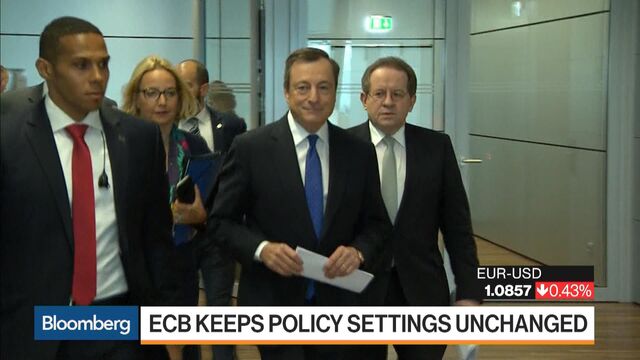 The European Central Bank's top economist has opened up the debate on how long policy makers are willing to hold off from raising interest rates.
Executive Board member Peter Praet signaled that the institution might not wait until "well past" the end of its asset-purchase program -- seen by economists as sometime in 2018 -- if the euro-area economy warrants faster tightening.
"We say 'well past' but this is a judgment which will be very much data-dependent," he said during a panel discussion in Brussels on Thursday. "It can be long, it can be short."
By admitting the possibility that the ECB will need to increase borrowing costs from record lows sooner than some investors had expected, Praet may encourage officials who want to exit extraordinary stimulus as soon as possible. That sets the Governing Council up for a potentially intense debate at its next policy meeting on June 8 over whether to adjust its forward guidance.
"Praet's comments mean the 'well past' wording is likely to change in June," said Frederik Ducrozet, an economist at Banque Pictet & Cie in Geneva. "My guess is that he wanted to highlight this part of the statement as another candidate to adjust communication. 'Well past' could become 'past' or 'some time after our net asset purchases' although a complete reversal in the sequencing between tapering and rate hikes looks unlikely at this stage."
Calming Investors
Currently each policy decision includes the line that "the Governing Council continues to expect the key ECB interest rates to remain at present or lower levels for an extended period of time, and well past the horizon of the net asset purchases." That language is intended to help calm any concerns among investors that officials might react hastily to signs of economic improvement.
Praet, one of the most-influential policy makers and a strong proponent of stimulus, defended the need to finish quantitative easing before raising rates. But on the timing, he may now be trying to give the central bank more flexibility as the 2.3 trillion-euro ($2.5 trillion) QE program approaches its end.
The Governing Council has already discussed whether to drop the signal that rates could still be cut -- a change in language that Ducrozet said could also be adopted in June, as well as a decision to say that risks to growth are neutral instead of tilted to the downside. Estonian central-bank Governor Ardo Hansson said on Wednesday that ECB policy could change if inflation continues on its upward trend.
Even so, Praet stressed that the moment hasn't yet come to start actually unwinding stimulus, rather than just talking about it, saying that inflation still isn't showing the progress the ECB would like.
Gradual Approach
While euro-area inflation was 1.9 percent in April -- nominally in line with the ECB's goal of just-under 2 percent -- he pointed to still-weak measures that strip out the effect of volatile elements like food and fuel, and said higher wage increases will have to come to durably push up price growth.
"After a prolonged period of exceptional monetary policy accommodation, any change in our policy stance should be gradual," he said. "It should be motivated by sufficient evidence that the present indications of an acceleration in activity find confirmation in hard data and that a more robust growth feeds through into a sustainable adjustment in the path of inflation."
That echoes the stance taken by ECB President Mario Draghi after last week's policy meeting, when officials kept their stimulus settings unchanged and made only the mildest acknowledgment that the risk to growth are improving.
Draghi spoke later on Thursday in Lausanne, Switzerland, where his prepared remarks focused on European integration and didn't touch upon any plans for monetary policy.
The pressure for the ECB to discuss tightening is fueled by robust incoming economic data pointing to a recovery that is becoming broader and more solid. A survey published earlier in the day showed manufacturing and services activity accelerated in April, beating economists' estimates. The report also showed signs of economic convergence -- the spread between gauges for Germany, France, and Italy hasn't been narrower since data collection started in 1998.
"The forward guidance on the future course of our policy is an integral component of our stance," Praet said. "Looking forward to our next monetary policy meeting in June, we will be able to draw on a more expanded information set than is available today, organized around new projections."
— With assistance by Alessandro Speciale, and Catherine Bosley
(
Updates with Draghi speech in 13th paragraph.
)
Before it's here, it's on the Bloomberg Terminal.
LEARN MORE