business
Conscience Key in Zuma Vote, South Africa's Gordhan Says
By
Opposition parties seeking secret ballot in no-confdence vote

South Africa's credit rating was cut to junk by S&P, Fitch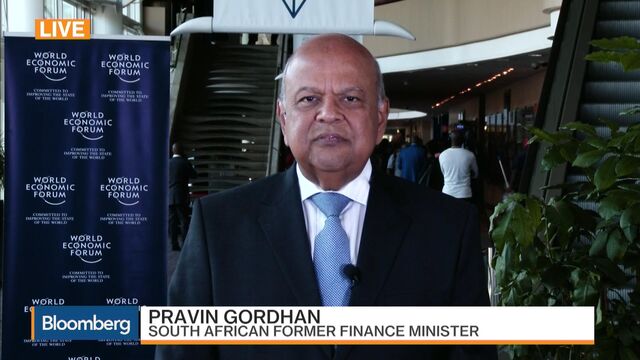 South African public representatives need to listen to citizens when deciding how to take the country forward and on how to vote in a motion of no confidence in President Jacob Zuma, ex-Finance Minister Pravin Gordhan said.
"Conscience is going to be an important factor," Gordhan, who was dropped from Zuma's cabinet in a March 31 reshuffle, said in an interview with Guy Johnson on Bloomberg Television on Thursday. "Others have said that allegiance to the constitution is going to be an important factor, and yet others believe that the political party you belong to needs to have an influence over the kind of decisions you make."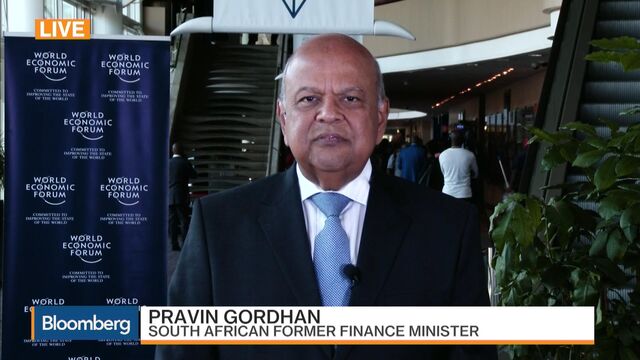 South Africa's credit rating was cut to junk by S&P Global Ratings and Fitch Ratings Ltd. after the cabinet changes, sparking street demonstrations pushing for Zuma's ouster and opposition parties to call for a no-confidence vote in parliament. Several top leaders in the ruling African National Congress have said the party risks losing power in 2019 elections if he's allowed to complete his second five-year term.
The ANC will debate how to respond to the motion and will be watching for the outcome of a Constitutional Court bid by opposition parties to allow for a secret ballot, Gordhan said. The tribunal will hear the arguments on May 15.
Opposition parties hope an anonymous vote will encourage ANC lawmakers, who have repeatedly rejected similar motions in the past, to vote against Zuma this time. The party, which has a 62 percent majority in parliament, has said its members won't be allowed to support the motion.
"These are the kind of discussions we need to have internally, clear up our heads," Gordhan said while attending the World Economic Forum on Africa summit in Durban, on South Africa's east coast. "The public is becoming more vociferous on this question as well," he said.
Zuma's Scandals
Zuma, 75, has been dogged by scandal since he became president in 2009, and is on his fourth finance minister in less than two years. The ruling party suffered its worst-yet electoral performance since the end of apartheid in a municipal vote in August that saw it lose control of Pretoria, the capital, and Johannesburg, the economic hub.
Read more on Zuma's possible early exit
The ANC said Thursday that six party members had joined parliament, in part to replace several former lawmakers who resigned following their dismissal in Zuma's cabinet reshuffle.
"There is no chance in hell that the motion of no confidence will succeed," Finance Minister Malusi Gigaba told reporters Wednesday at the World Economic Forum in Durban.
"The president is going to serve his term until 2019," he said in an interview with Bloomberg TV. "Until the ANC changes its mind, the president will remain the president."
— With assistance by Guy Johnson
(
Updates with ANC installing six new lawmakers in second paragraph after Zuma's Scandals subheadline.
)
Before it's here, it's on the Bloomberg Terminal.
LEARN MORE