Polling Audit Challenges Clinton's Claim That Comey Cost Her the Election
By
Her standing in the polls was dropping well before Oct. 28

Group says it's an over-simplification to say 'polls failed'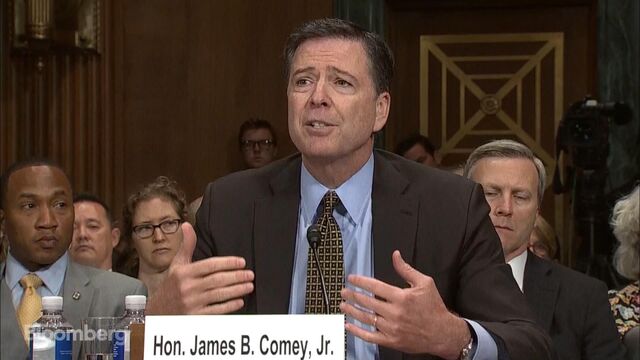 Hillary Clinton's claim that FBI Director James Comey cost her the White House by highlighting an inquiry into her handling of sensitive emails 11 days before the 2016 election is being challenged by a group that oversees polling standards in the U.S.
"We would conclude there is at best mixed evidence to suggest that the FBI announcement tipped the scales of the race," the American Association for Public Opinion Research says in its quadrennial review of presidential campaign surveys. A committee of public opinion and survey methodology scholars as well as election poll practitioners prepared the report.
That finding, released Thursday, is among dozens in an audit that highlights both polling successes and failures from one of the most unpredictable presidential races in recent decades, a contest that ended in President Donald Trump's victory and shocked the political establishment.
Clinton rekindled the Comey controversy Tuesday when she repeated claims that had it not been for Russian-backed computer hackers and the FBI director's 11th-hour actions she would have won. "If the election had been on Oct. 27, I'd be your president," she said.
The report, however, found her support likely started to drop off around Oct. 24 or Oct. 25, perhaps even earlier. It didn't offer a conclusion on what caused Clinton's decline.
'Bad' or 'Catastrophic'
Comey alerted members of Congress on Oct. 28 that agents had discovered a new batch of emails that could be part of an earlier investigation into Clinton's use of a private email system while she was U.S. secretary of state. His even-handedness in that move has been questioned by Clinton and other Democrats.
Testifying Wednesday before Congress, Comey said he'd make the same decisions again and his agency had to choose between "really bad" or "catastrophic" options in deciding whether to reopen the Clinton email probe just before the election.
Citing multiple daily tracking polls conducted in the two weeks before the vote, the polling study found that Clinton's decline was already well underway when Comey's actions rattled the nation's politics and markets.
"October 28th falls at roughly the midpoint (not the start) of the slide in Clinton's support," the report says. "What's more, the lag between when interviewing was conducted and when tracking poll results are released means that the slide in Clinton's support probably began earlier."
Based on the data reviewed, the report says it's "reasonable to speculate that Clinton's slide began as early as October 22 or 23" and that it's "possible that the FBI letter news story made that erosion more severe than it otherwise would have been."
'Did Not Last'
To further test its conclusions, the group said it also analyzed all national public polls fielded between Sept. 1 and the Nov. 8 election day, taking into account differing survey methodologies and changes over time. 
The analysis indicated that news of Comey's actions "had an immediate, negative impact for Clinton" of about 2 percentage points, the report says. "The apparent impact did not last, as support for Clinton tended to tick up in the days just prior to the election."
Poll "aggregators and estimators" incorrectly helped "crystalize the erroneous belief that Clinton was a shoo-in for president," the report says. Public perception that the "polls failed," however, is an over-simplification.
"Some polls, indeed, had large, problematic errors, but many polls did not," it says. "National polls were generally correct and accurate by historical standards."
On average, national polls predicted Clinton would win the popular vote by about 3 percentage points, the report says, compared to the actual result of 2.1 percentage points.
'Historically Bad'
State polls, meanwhile, had a "historically bad year," the report says. The average error was the largest recorded since 2000, with Clinton's support overstated.
Polls in Pennsylvania, Michigan and Wisconsin -- all states won by Trump -- were especially problematic because many forecasters and political analysts considered them to be a Democratic firewall that would assure Clinton's victory.
"There is evidence of real late change in voter preferences in Trump's favor in the last week or so of the campaign, especially in the states where Trump won narrowly," the report says.
The educational attainment of poll participants often didn't get enough attention, the committee found. "Some pollsters – especially state-level pollsters – did not adjust for education in their weighting, even though college graduates were over-represented in their surveys," the report says. "This led to under-estimating support for Trump."
The report, citing "shrinking budgets at news outlets," suggests that the national polling-standards group might consider trying to organize financing for higher quality state-level polls in future presidential elections.
"There is no reason to believe that this problem is going to fix itself," the report says. "Collectively, well-resourced survey organizations might have enough common interest in financing some high quality state-level polls to reduce the likelihood of another black eye for the profession."
Before it's here, it's on the Bloomberg Terminal.
LEARN MORE