Canada Lumber Producer Bemoans Rising Cost of U.S. Trade Spats
By
Resolute says it will pay up to $75 million in tariffs a year

CEO vows to fight import duties on softwood lumber, paper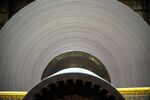 A Canadian timber company caught in the crosshairs of two trade disputes with the U.S. said it will be forced to fork over as much as $75 million a year in duties while it tries to fight back against the measures.
Montreal-based Resolute Forest Products Inc., the world's largest newsprint maker, will pay about $50 million a year after the U.S. levied a 12.8 percent import tariff on the company's softwood lumber, Chief Executive Officer Richard Garneau said Thursday. That's in addition to as much as $25 million in tariffs it's already paying after the U.S. imposed a duty on the company's shipments of supercalendered paper, the glossy type used in magazines and newspaper inserts.
"It's a very difficult issue we have to deal with and it's affecting our cash flow," Garneau said in a telephone interview.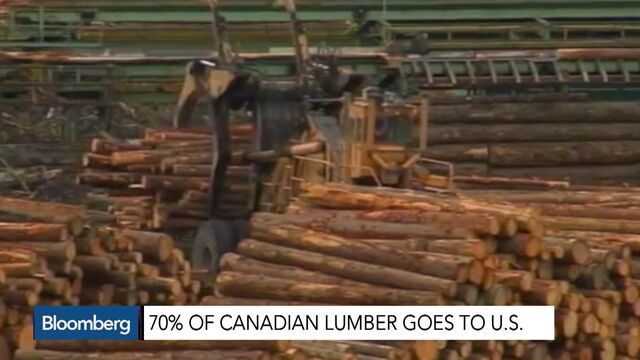 The long-running dispute between Canada and the U.S. over softwood lumber escalated last month when President Donald Trump announced tariffs on shipments from the neighboring country. The move drew swift criticism from Canada, whose lumber producers called the duties unfair and vowed to fight the decision.
Why the U.S. and Canada Are Fighting About Lumber: QuickTake Q&A
Garneau said the dispute over the "baseless" tariffs could still be resolved as the U.S. needs to import lumber from north of the border. Canada is the world's largest softwood lumber exporter, and the U.S. is its biggest market.
Resolute and New Brunswick-based J.D. Irving Ltd. are also appealing the duties on specialty paper of as much as 20 percent, which the U.S. imposed in 2015 amid allegations that Canadian companies were receiving unfair subsidies.
Shares of Resolute tumbled as much as 12 percent Thursday in Toronto, their biggest intraday decline since Feb. 2, after the company reported an unexpected first-quarter loss excluding one-time items of 33 cents per share. The average estimate of analysts surveyed by Bloomberg was for a 7-cent profit. Resolute cited smaller newsprint shipments.
Resolute has paid $32 million in supercalendered duties to date, Chief Financial Officer Jo-Ann Longworth said in the same interview.
"We won't be able to spend that money on other projects in terms of growth or improvements," she said.
Before it's here, it's on the Bloomberg Terminal.
LEARN MORE