An Equity Guide to Macron: What May Gain and Lose If He Wins
By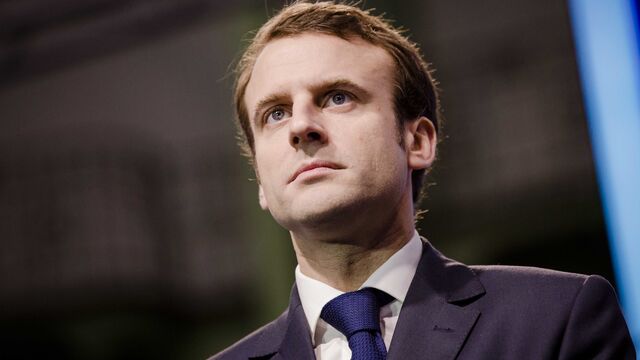 With polls showing Emmanuel Macron ahead of anti-euro politician Marine Le Pen in Sunday's election, investors are now looking at what will win in the stock market under a Macron presidency.
If Macron's campaign pledges for closer regional integration, corporate tax cuts and labor reforms happen as promised, "the return in confidence could help consumption to be better, then we can really see a positive spiral in France," said Vincent Durel, a Paris-based portfolio manager at Fidelity International, which oversaw $294 billion on March 31 globally outside the U.S. "That's what we need."

Polls are showing Macron ahead by about 20 points. A wide margin of respondents in a snap survey also said he won Wednesday's debate, an especially brutal exchange between the two candidates. The CAC 40 Index jumped 1 percent to a nine-year high as of 4:13 p.m. in Paris.
Click here for an equity guide to Le Pen.
Here's a round-up by sector:
WINNERS:
Consumers
Macron has advocated cuts to payroll taxes and a higher employment bonus for low-paid workers. Higher household consumption is good news for consumer cyclicals, such as retail, media, hotel, leisure and restaurants, analysts at Societe Generale SA led by Roland Kaloyan wrote in a note. 
Banks
Lenders made up nine of the top 10 gainers in the euro-zone stock market the day after the first round as the risk of Le Pen winning and pulling France out of the euro fell, while a jump in bond yields boosted the outlook for bank earnings. Macron has also proposed changing the wealth tax so that it would target only properties and not capital investment, and applying a 30 percent flat rate on capital income. This could boost equity buying, aiding Credit Agricole SA, BNP Paribas SA and asset manager Amundi SA, said Societe Generale.
Renewable Energy -- and EDF
Macron's proposed investment in renewable energy would be positive for makers of wind turbines Vestas Wind Systems A/S and Nordex SE, power companies EDP Renovaveis SA and Engie SA, according to Goldman Sachs Group Inc. For Electricite de France SA, a carbon floor -- supported by Macron -- could raise power prices and improve the state-controlled utility's cash flows, the bank said.
Telecom
As Macron has voiced support for cutting the government's stake in listed firms, sale of the state's shares in Orange SA could trigger another wave of consolidation for telecom stocks -- or at least talks, said Fidelity's Durel. His fund has bought shares in Iliad SA because the carrier will be among the biggest beneficiaries of consolidation, he added.

Others are more skeptical. Consolidation in the sector is no longer likely in the medium term given the French regulator's recent signals against it, said Stephane Beyazian, an analyst at Raymond James Financial Inc.
Autos
French carmakers Renault SA and Peugeot SA could benefit from cheaper labor, improving consumption and Macron's proposed incentive for drivers switching to a less polluting car, according to Societe Generale. There's a greater likelihood of the government selling a stake in Renault under Macron, which is good for the firm as it paves the way for a more efficient, balanced holding by Nissan Motor Co., in which Renault also has a stake, said Evercore ISI.
Real Estate and Construction
The construction sector would benefit from Macron's proposal to abolish the local poll tax for four-fifths of households and build housing in certain regions, said Societe Generale. His agenda would also help French and France-exposed REITs, according to UBS Group AG, which recently raised price targets for the REIT Unibail-Rodamco SE and developer ICADE.
...And More
Macron has advocated reforms to make the labor market more flexible. This will benefit labor-intensive industries, such as food, retail, services and manufacturing, said Supriya Menon, a strategist at Pictet Asset Management. Small and mid-cap stocks tend to be more domestic and will benefit more under Macron, said Societe Generale. 
LOSERS:
Some that may be adversely affected:
Insurers: Macron's proposals to include new life insurance contracts in his capital gains tax would curb sales of such products, though the immediate impact on earnings would be limited as insurers are now focused on other offerings, said Societe Generale. CNP Assurances is the most exposed, the French bank said.
Defense and security: The sector is seen as one of the few winners under Le Pen, who has campaigned on raising defense spending and expanding security forces.
Of course, the most important caveat is that all depends on Macron's ability to enact his agenda. Since he doesn't represent a mainstream political party, he'll struggle to seize a majority in June's parliamentary elections, subjecting him to legislative gridlock or the influence of a coalition. Some investors are still optimistic. Matthew Perowne, a fund manager at Invesco Ltd. who has begun positioning for his policies, said Macron has a good track record and winning the election and backing of other parties will give him a strong mandate.
The next parliament will probably be pro-business, giving a boost to European stocks, Natixis strategists including Sylvain Goyon wrote in a note. This favors the financial sector, autos, electronic equipment, real estate and software, they said.
"Even if he doesn't get any majority at the parliamentary election, he'll find a way to manage the country," said Fidelity's Durel. "He is determined to apply his program as he has explained it."
— With assistance by Thomas Seal, Blaise Robinson, Kasper Viita, Chiara Remondini, and Aleksandra Gjorgievska
Before it's here, it's on the Bloomberg Terminal.
LEARN MORE